The integration with HubSpot in Reportei allows you to visualize your HubSpot account data in Reportei reports, allowing you to gather information about social media, paid campaigns, CRM, and email marketing in a single report. We have two options to integrate Reportei with your HubSpot account: HubSpot Marketing integration and HubSpot CRM integration.
For both integrations, you will need:
An active HubSpot account.
Superadmin permission.
Here is a summary of what we explained in this article:
How to integrate your HubSpot account in Reportei?
How to integrate your HubSpot account in Reportei?
1. Go to the Integrations of the project.
In the My projects overview, you can use the shortcut to access the Integrations of the project you want to integrate the accounts with.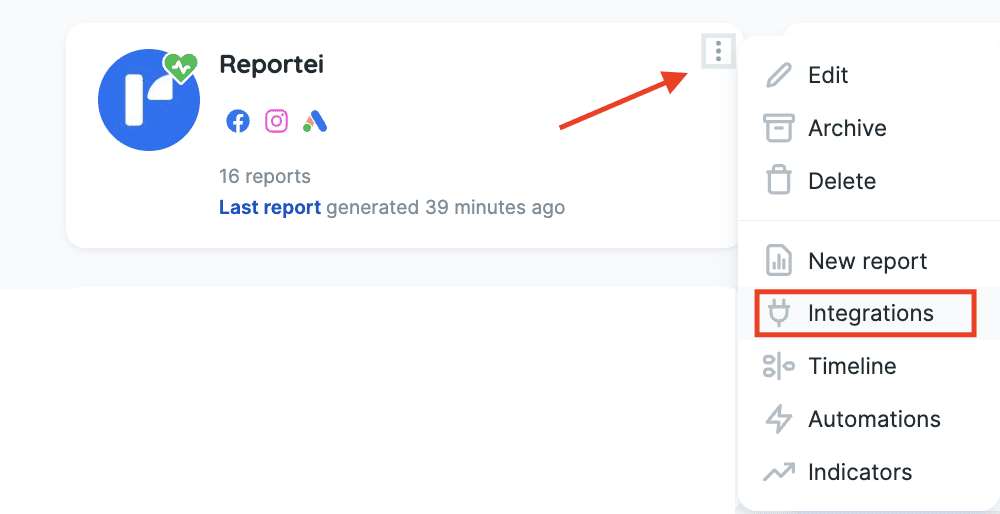 Alternatively, to integrate your HubSpot account, access the project you wish to integrate and simply go to Manage Integrations.

2. Connect your HubSpot account
On the Integrations page, locate the option for HubSpot Marketing or HubSpot CRM and then follow the steps to connect each account.You will see it like this:
When you click on integrate, both HubSpot Marketing and CRM, you will need to enter a name for the integration. This name will appear to identify that account in the report.

After entering a name, you will be redirected to a page where you should select the account you want to connect to Reportei for that project.

By selecting the account, the last step is to allow Reportei access so that the account can be connected, and then you can generate reports and dashboards.

3. Generate reports
With the account integrated into the project, you are ready to generate comprehensive reports in Reportei with data from your HubSpot Marketing and HubSpot CRM accounts.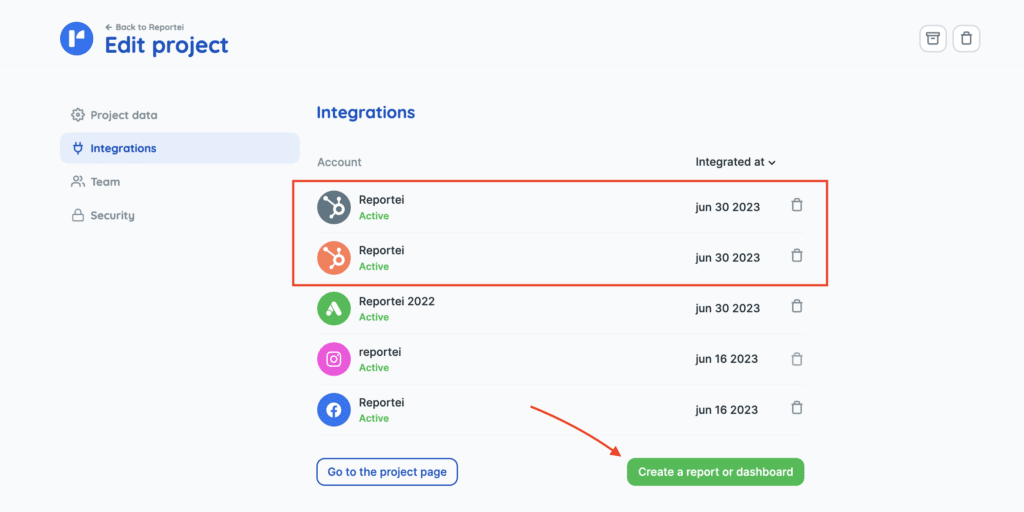 When generating a report with HubSpot CRM, you will have the option to select whether the view will be for the entire account or choose specific pipelines.

If you click on "select pipelines," you will be able to check and save which Pipelines you want to analyze in more detail in that report/dashboard.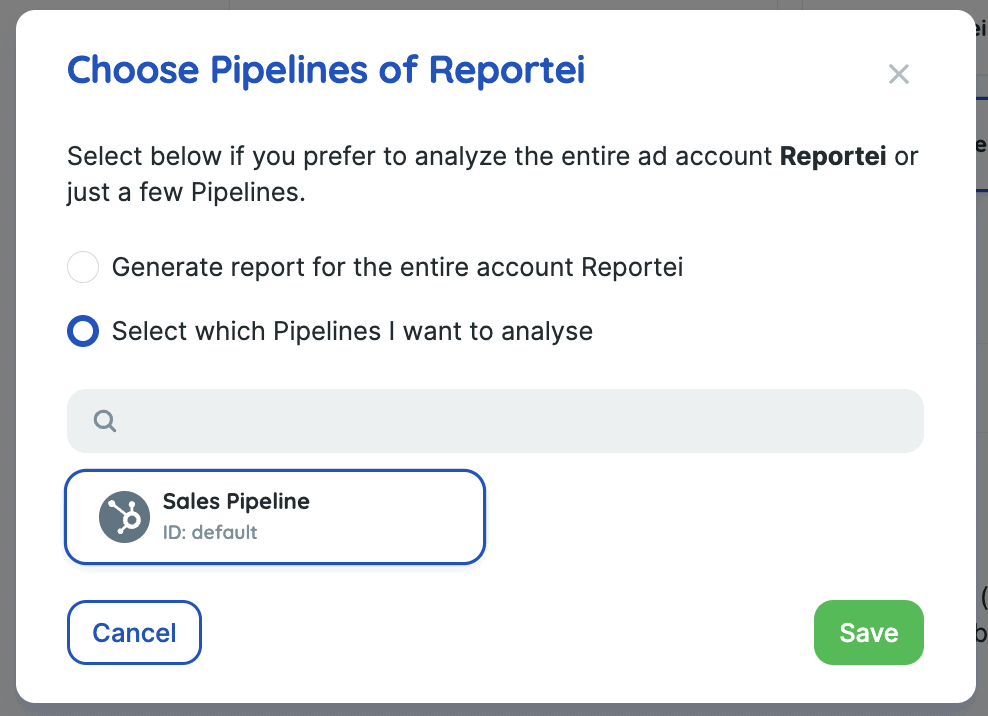 What metrics can I find in the reports?
In HubSpot Marketing reports, you will find the following metrics:
Website sessions
New website contacts
Customer conversion rate
New sessions %
Contact conversion rate
Page/Session Views
Average session duration
Landing page views
Total submissions
New contacts
CTA views
Entrances
Exits
Landing pages bounce rate
Average page view time
Sessions over time
Customers over time
Views by device
Contact Type
Origin of sessions
UTM parameters
Top pages
Summary of forms
Featured Emails
In HubSpot CRM reports, you will find the following metrics:
Closed deals

Deals closing rate

Deals funnel

Deals loss rate

Deals over time

Deals revenue by source

Summary of activities

Total deals closed against target

Total revenue

Activities per representative

Assigned contacts

Average call duration

Average total value of closed deals

Closed and lost deals

Completed calls

Completed tasks

Created contacts

Deals closed by owner

Emails sent

Lost deals

New created deals

Pipelines

Reason for lost deals

Unstarted Tasks
Removing Reportei from HubSpot
Follow the steps below to disconnect Reportei from your HubSpot account.
In HubSpot, go to Connected apps.
Click Actions on the Reportei integration and click Uninstall.
In the dialog box, type uninstall in the text field and click Uninstall.

In Reportei, go to the Integrations page of the project and click to Remove HubSpot integration.
If you have any questions, please contact our support team!