Reports and Dashboards for Pinterest and Pinterest Ads
Keep your most important Pinterest Ads data on one screen to optimize your campaigns. Integrate reports and dashboards with other digital marketing channels in Reportei!
Try it now
Full Pinterest reports and dashboards in only 3 seconds
Integrating your Pinterest and Pinterest Ads account with Reportei allows you to create reports and dashboards in seconds. Get access to your key metrics, performance graphs, and most importantly, individual campaign or ad results.
You can analyze your Pinterest metrics on a single screen and data from other channels integrated with Reportei. It's much more practical for gaining insights and makes your planning and marketing investments more efficient.
Check out the main metrics you'll find in our Pinterest report and dashboard
Integrating your account with Reportei gives you access to the "Manage Integrations" tab. Then, you can create Pinterest reports and dashboards in seconds. You'll find all the reach and engagement metrics you need there.
Here's a list of metrics available to help you analyze your reach, views, spending, and more:
Pinterest
Number of Pins: total number of Pins (markers to save images, videos, or products) within a specified period;

Total Pins: all Pins posted to an account;

Impressions: total number of times Pins were viewed;

Engagement: user action that involves interacting with your Pins (such as clicks and saves);

Engagement rate: the ratio of interaction to impressions;

Total saved Pins: number of times other users saved your content (repins);

Total clicks on Pins;

Click rate: ratio of total clicks to Pin impressions;

Total boards: number of boards created within a specified analysis period.
Pinterest Ads
Total Pin clicks – for accessing content on or off Pinterest;

Total number of saved Pins;

Number of conversions;

Total spend;

Cost per thousand impressions (CPM);

Total Click Through Rate (CTR)

Total engagement on published Pins;

Paid Engagement (including saves, pin clicks, exit clicks, and carousel card swipes;

Total impressions;

Paid impressions.
You also get a graph showing clicks and saved Pins over comparison periods and the Featured Campaigns table with data on the engagement of your campaigns.
Are there any metrics we missed? Not a problem! You can insert them through our manual metrics feature to keep a complete record in one place.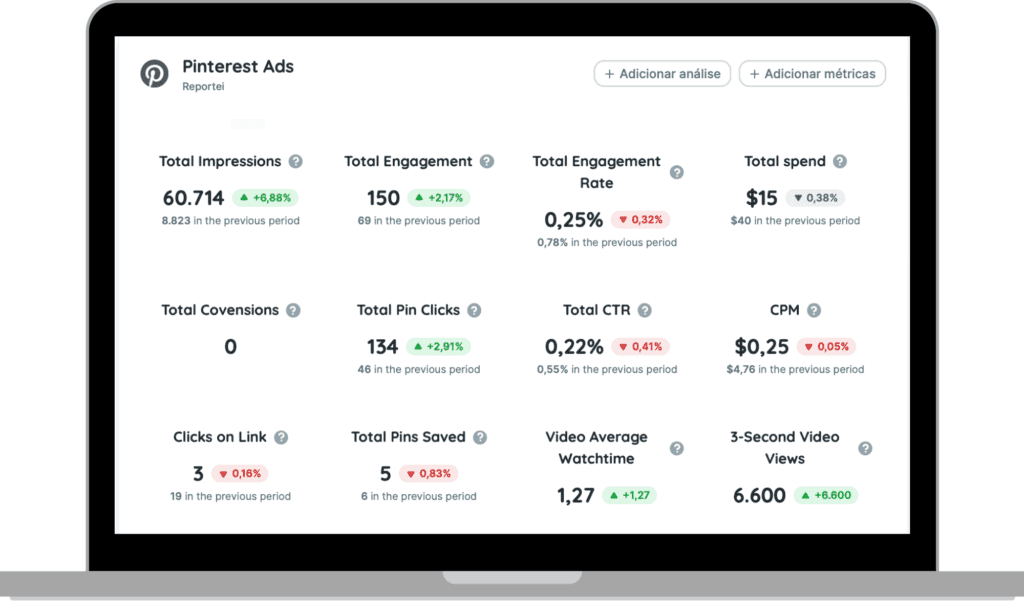 Engagement graphs and tables
Our Pinterest report and dashboard include four charts to help you get an in-depth analysis of your reach and engagement:
Impressions and engagement over time;

Clicks and saved Pins over time;

Impressions type (product, pattern, concept, and video);

Engagement type.
Create reports and dashboards for Pinterest and Pinterest Ads in a few clicks
Analyze your Pinterest data right now and learn all about Reportei!
---
Try it free for 3 days
Analyze performance graphs and tables for your TikTok Ads campaigns
Besides metrics, our TikTok Ads reports and dashboards automatically create graphs and tables you can use to track ad campaign data in depth. 
Graphs will show costs, impressions, clicks, and conversions over time. And that's not all! We have three additional graphs, breaking down impressions, age, platform, and gender. 
Tables let you analyze campaign and featured ads results (cost, impressions, and conversions) and the countries and regions where you ran ads.
Extract valuable insight form TikTok Ads results
If you use TikTok Ads to promote your business, our reports and dashboards are a valuable source of insight to help you boost your Ad campaigns.
You can use them to analyze metrics from reach performance to audience engagement comprehensively, comparing costs to optimize future investments. 
You can also monitor campaigns and creatives to understand which perform better so you can plan actions and try new strategies.
Here are the metrics available in Reportei's TikTok reports and dashboards
A TikTok/Reportei account integration allows you to access your most relevant TikTok results with a few simple clicks. 
You can analyze:
Total views;

Total likes;

Total shares;

Number of videos;

Comments;

Featured videos.
Besides TikTok reports and dashboards, you can also generate reports and dashboards for Instagram, Facebook and Facebook Ads, Google Analytics, Google Ads, YouTube, LinkedIn and LinkedIn Ads, Google Search Console, Google My Business, Mailchimp, RD Station, and more. Get the best plan for your projects and generate practical, in-depth, custom reports and dashboards for your clients!