Create Digital Marketing and Sales Reports and Dashboards in just
3 seconds
View and analyze on a single screen the main indicators from +20 channels, such as: Instagram, Facebook, Meta Ads, Google Ads, TikTok, LinkedIn, RD Station, Pipedrive, HubSpot, Youtube, GA4, and other channels.
--- Ajuste da imagem em telas menores que 1366 ---/>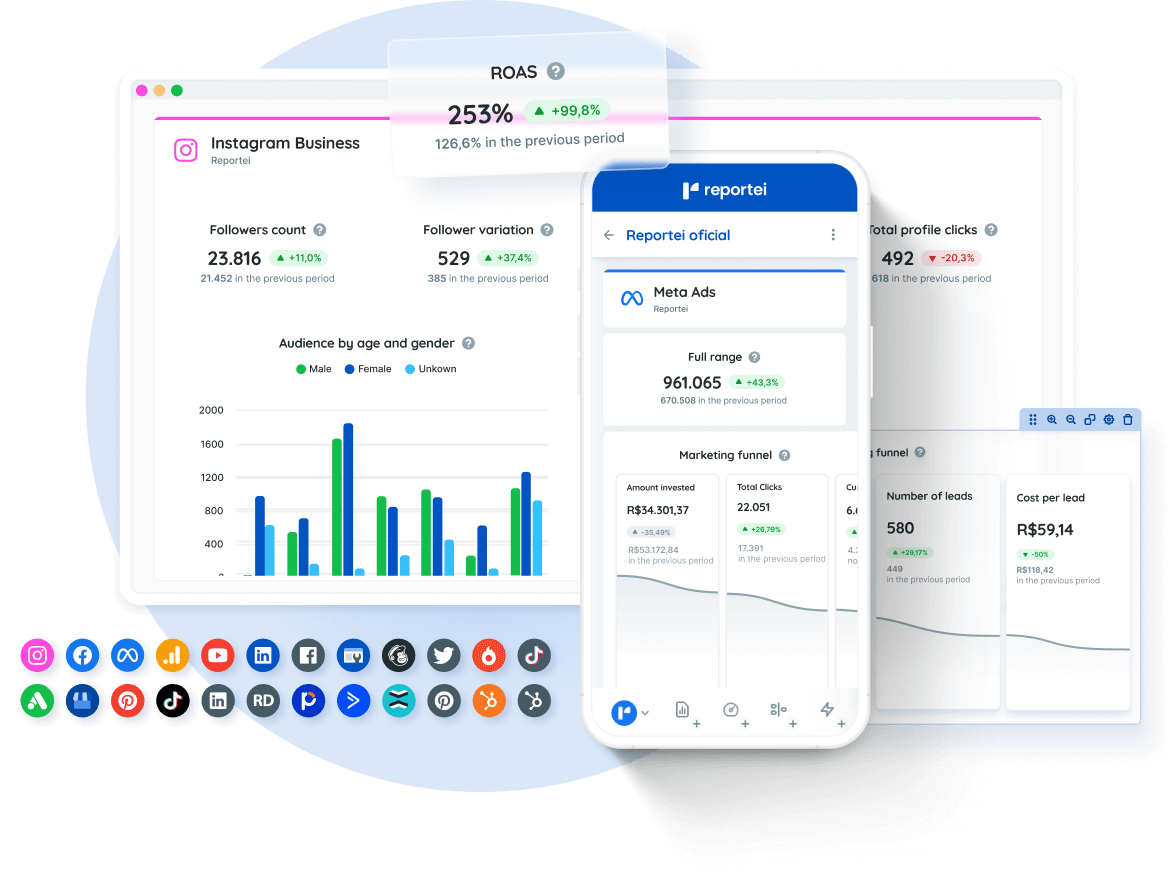 More than 5000 agencies, freelancers, and companies use Reportei













Founded in 2015, Reportei is the first Brazilian tool focused exclusively on reports and dashboards for communication between marketing professionals and their clients. You can also generate reports with Reportei AI, monitor indicators with Reportei Control, automate report sending, and document the entire project history on the Timeline.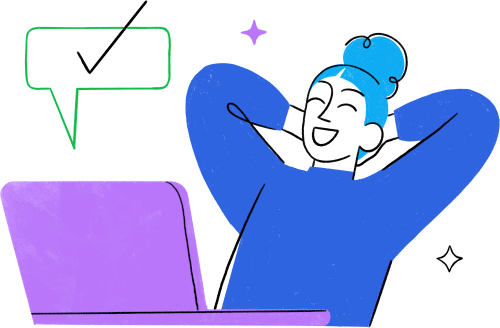 Stop wasting time with manually made reports and dashboards and boost your productivity!
Don't waste time with manual tasks, increase your productivity and your results with digital marketing. Do a quick test now and see how Reportei will optimize the way you work.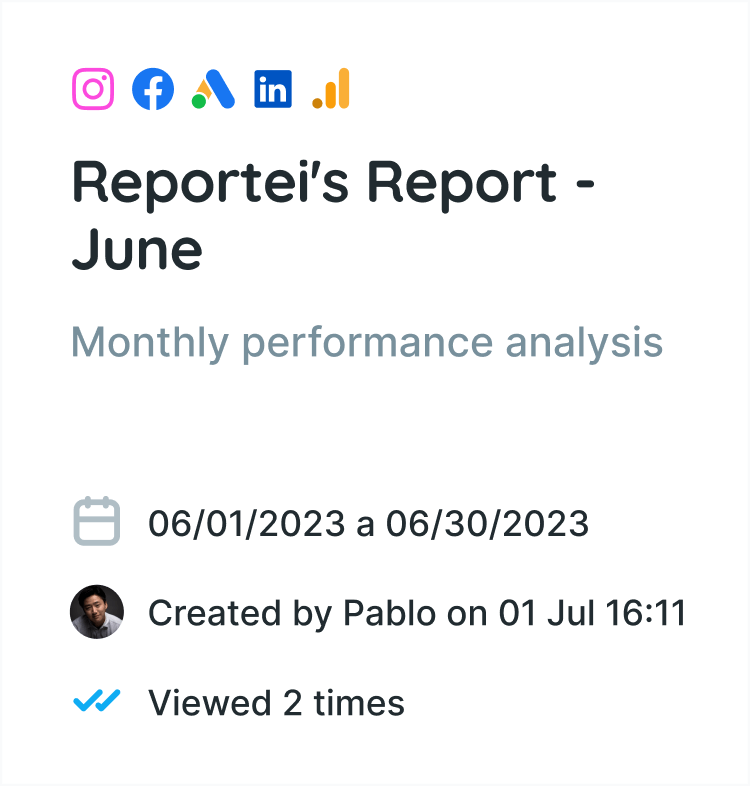 Create Marketing and Sales Reports with Artificial Intelligence
Fully customizable reports, with various ready-to-use templates for different scenarios and marketing and sales channels. Plus, use Reportei AI for instant insights.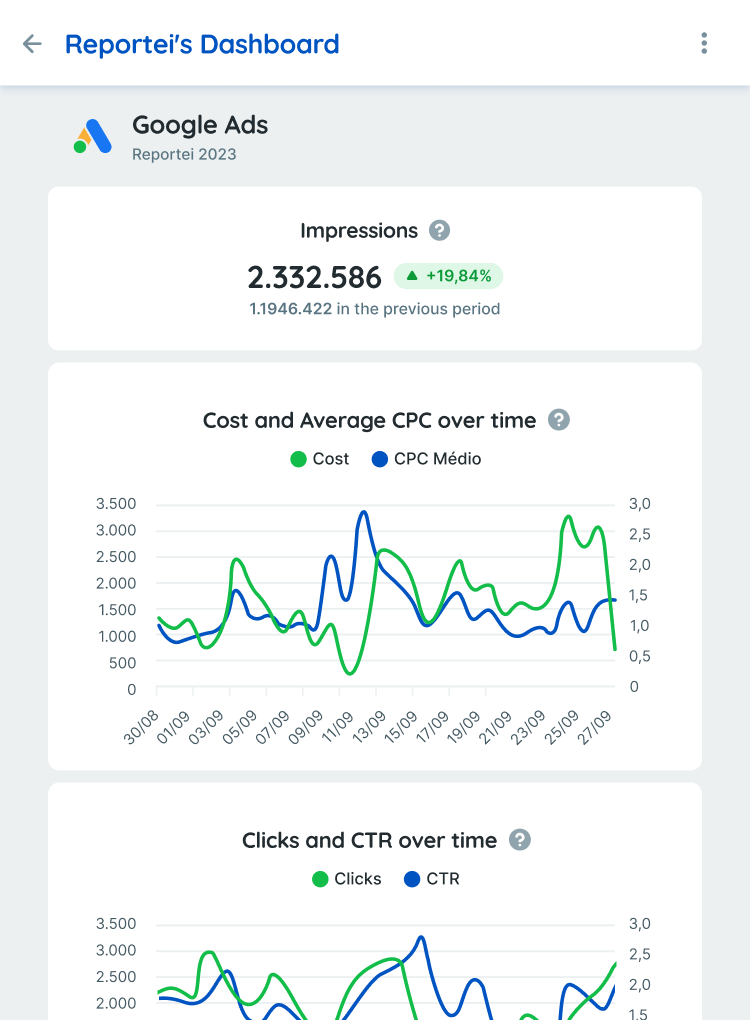 100% Customizable Professional Dashboards
Dashboard templates for all types of businesses. From traffic management to SEO, through social networks and sales channels. Control your company's indicators on a single panel.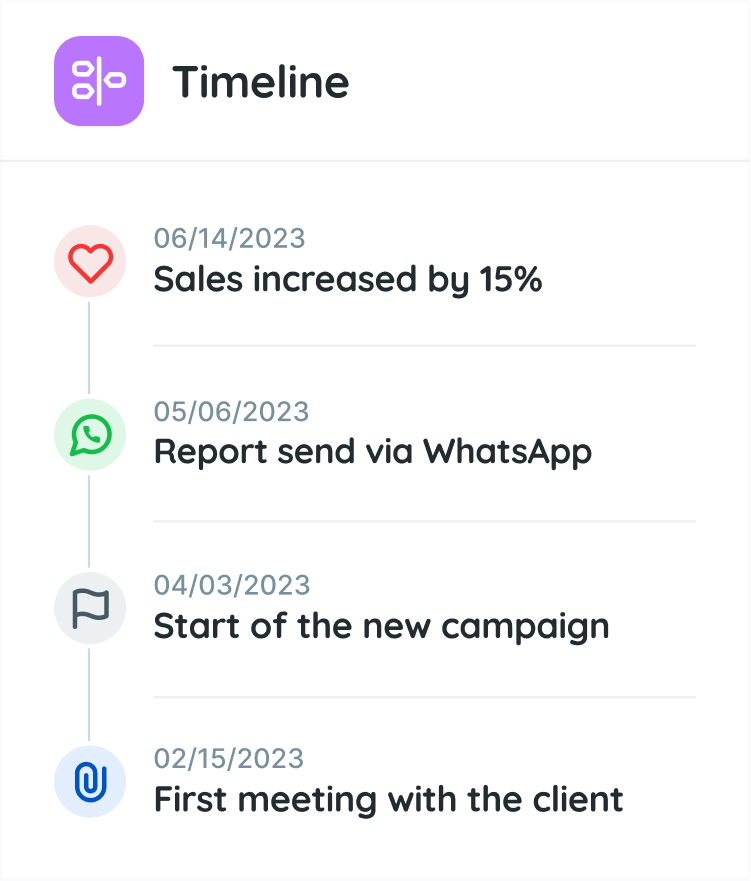 The Timeline that you can only find in Reportei
Exclusive feature of Reportei! The Timeline allows you to record important milestones in a story format, with dates and project events.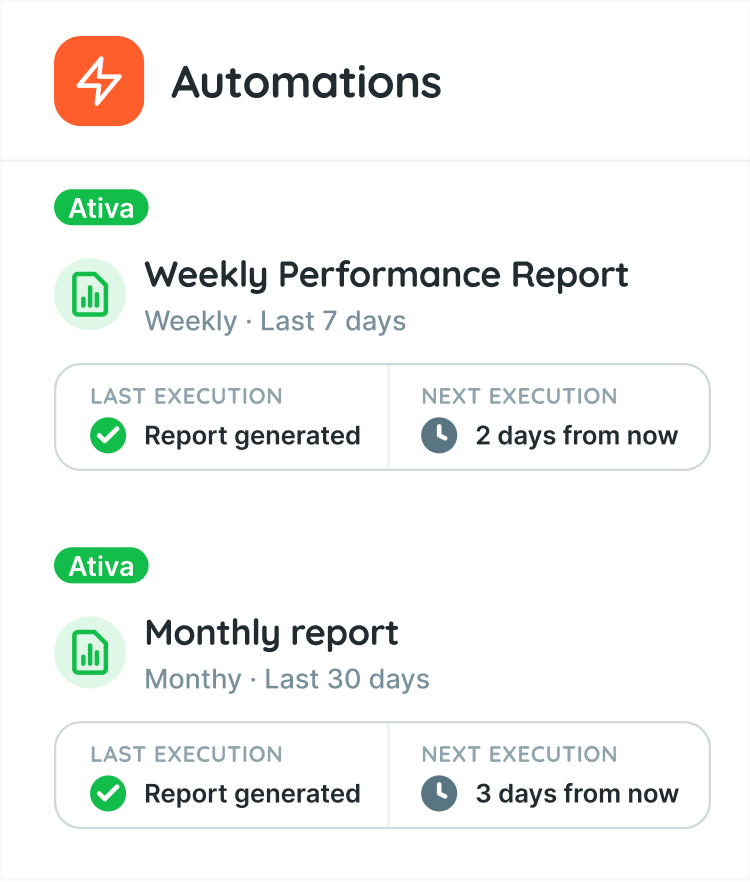 Automatically generated reports
Create automated reports that can be sent directly via email. Select the frequency, analysis period, a template, and the recipients you want to send it to.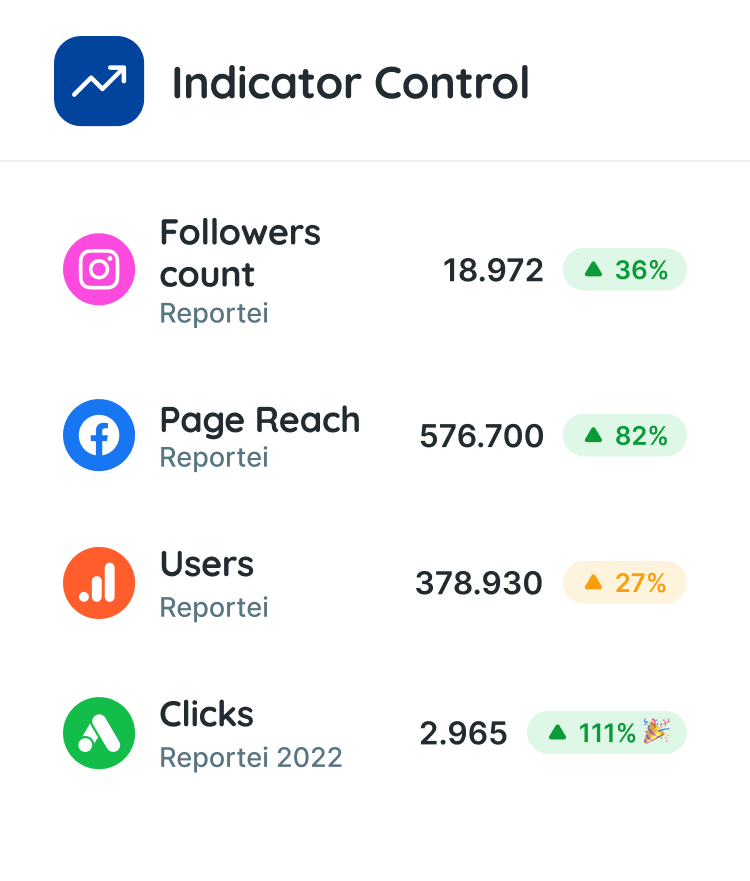 Dashboard of indicators that ensures total control of your results
Monitor your marketing/sales indicators and campaign budgets. Receive performance alerts and make faster decisions to ensure your goals are achieved!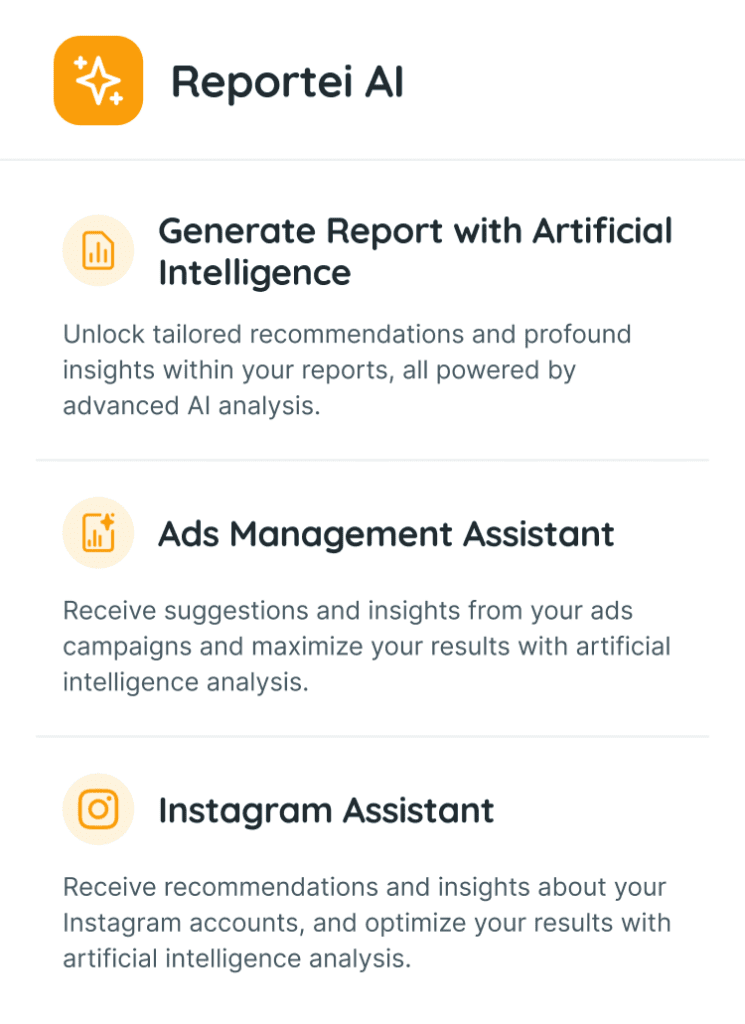 The Reportei's Artificial Intelligence
In addition to generating insights about the data from your marketing and sales channels, Reportei AI has personalized assistants such as: Traffic Management Assistant and Instagram Assistant.
View all your channel indicators on a single screen
See all your main indicators from Instagram, Facebook, Meta Ads, YouTube, TikTok, LinkedIn, Google Analytics, Google Ads, Mailchimp, Hotmart, RD Station, Active Campaign, PhoneTrack, Search Console, Google My Business, Twitter, Pinterest, and other channels all on one screen.
Instagram Business
Facebook
Meta Ads
Google Ads
GA4
Google My Business
Google Search Console
Google Analytics
Youtube
Linkedin
Tiktok
Pinterest
Tiktok Ads
Linkedin Ads 
Pinterest Ads
Twitter Ads
RD Station Marketing
RD Station CRM
Hotmart
Pipedrive
HubSpot Marketing
HubSpot CRM
Active Campaing
Phonetrack
Mailchimp
Reportei is an excellente tool
I love the reports. They are clean, clear, and break down activity across all channels. I can download professional-looking reports to share with my clients. Additionally, there is a comparison to view stats from current and previous months. They even include a chart that shows the best time to post on individual channels based on audience activity.
I can't think of anything I dislike about Reportei.
Extremely Insightful
This is a fantastic tool to get insight into your website's behaviors when it comes to all the various metrics across a wide spectrum of services. I love the bird's eye view I can get by just opening the tool and generating a report.
So far I haven't found anything I dislike about the service. It's pretty solid.
I was looking for a tool to create professional social media and digital marketing reports and I found this. Reportei allows me to create professional reports and dashboards in just 3 seconds! And you know the best part? You get to try out this cool service at a fraction of the cost compared to hiring a digital marketing agency!

"I see Reportei as an excellent data collection and presentation tool! Its main advantage is the ease of use, thanks to its intuitive interface. With just a few clicks, you can integrate your accounts and simply drag the elements available in the metrics menu to create a Report or a Dashboard, either from a standard template or customized according to storytelling needs."

Gabriel Sorato​
Agência Nação Digital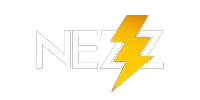 "With Reportei, we can bring our clients' channel analysis into one platform, and its structure allows us to deliver the key metrics for their business in a personalized manner. Not only did it optimize our time, but it also made the presentation and sending of reports much easier."

Kennedy de Lima​
Nezz Digital

"Reportei emerged as the solution to the biggest bottleneck we had at Roma, and that's been about four years ago. We felt the lack of a tool that could deliver speed and a great user experience. And when they introduced automated report sending, it was just fantastic. We can only express our gratitude for the partnership all these years because they have always been very responsive and, above all, listened to our needs, seeking continuous improvement of the tool."

Bruno Paiva​
Agência Roma​
--- Ajuste do Background em telas menores que 1366 ---/>
Digital Marketing and Sales Reports and Dashboards
Reportei is a tool for digital marketing reports and dashboards, focusing on paid traffic, social media, SEO, and sales. The software includes reports and dashboards for Instagram, Facebook, Youtube, LinkedIn, Google Analytics, Google Analytics 4, Google Ads, Google Search Console, Google My Business, Mailchimp, RD Station, Pinterest, TikTok, and various other channels.
The focus of the reports and dashboards is to quickly and efficiently collect information from social media and digital tools, providing marketing analysts with data to present to companies and clients. In the tool, there is a space to write analyses about the generated social media and digital marketing reports and dashboards, besides the collected data.
Use Reportei to streamline processes that were previously done manually! By bringing everything together in one place, the digital marketing specialist will have an easier time analyzing and proposing optimizations.