Facebook Reports and Facebook Ads Reports
Analyze your results with the Facebook reports and Facebook Ads reports generated by Reportei
FREE TRIAL
Facebook is a powerful tool for marketing professionals. With over 2 billion monthly active users, Facebook provides marketers with a vast pool of potential customers to reach out to. But in order to make the most of this opportunity, you need to be able to track your results and measure your progress.
That's where Reportei comes in. With our easy-to-use report generation tool, you can generate a complete report and dashboard on your Facebook campaigns.
Did you know that in just three seconds, it is possible to generate a complete report on the results of your actions for Facebook?
Why Use Reportei?
There are many reasons why Reportei is the best tool for generating Facebook reports.
First, our tool is fast and easy to use. Just enter your campaign information, and we'll do the rest.
Second, our reports and dashboards are comprehensive and include all the information you need to track your progress and optimize your campaigns.
Third, our reports are generated in real-time, so you can always be sure that you're getting the most up-to-date information available. And fourth, our reports are highly customizable, so you can easily tailor them to your specific needs.
With speed and practicality, Reportei gathers the main metrics of its campaigns and makes this information available on a Facebook report that is simple to understand and interpret.
We believe that with this facility for you to have this data at hand whenever you want, it is possible to have more time to focus on more effective strategies, continuous improvement and a more solid relationship with your customers.
That is why our social media reports and digital marketing reports not only capture results in just a few clicks, but also offer complete freedom for you to customize them according to what your client considers most important and add explanatory analyzes about the past, present and future of the project .
Are you curious? Take a closer look at the entire structure you find in the Facebook reports and Facebook Ads reports!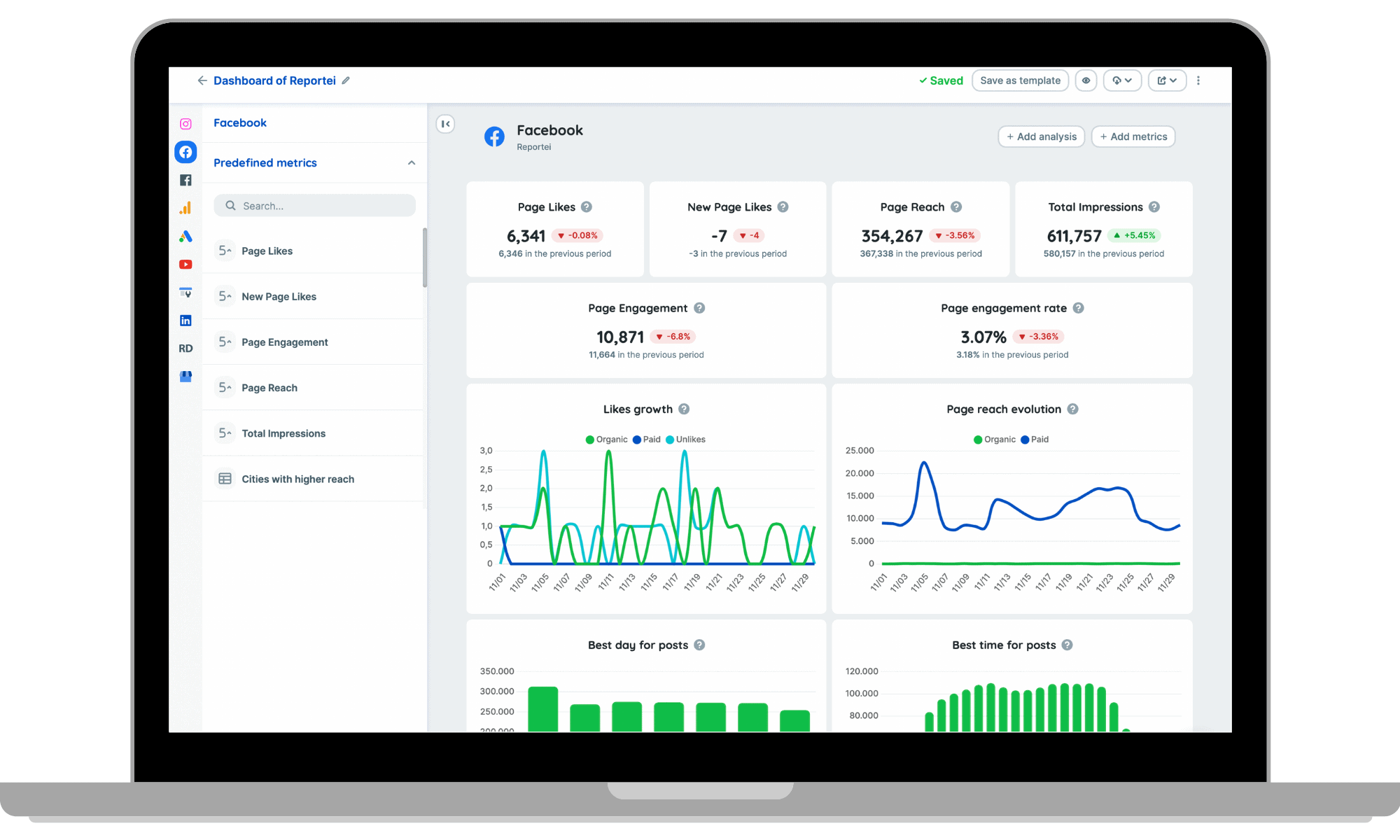 Check which metrics you find on Facebook reports
With Reportei's Facebook report, you have access to the main engagement data and reach of your page.
See what are the metrics you find to track the performance of your campaigns on this social network:
Page likes;
New page likes;
Page Engagement;
Page Reach;
Posted Stories;
Total impressions;
Number of posts;
Shares;
Comments;
Consumption;
Total reactions on posts.
For a more detailed analysis, you also have graphs and tables that show relevant information about the growth of likes on the page, the evolution of reach, audience by age and gender, performance by type of post, cities with greater reach and featured posts .
All this so that your client can understand who his audience is, how he interacts with the page and what types of content can leverage his strategies in this social media.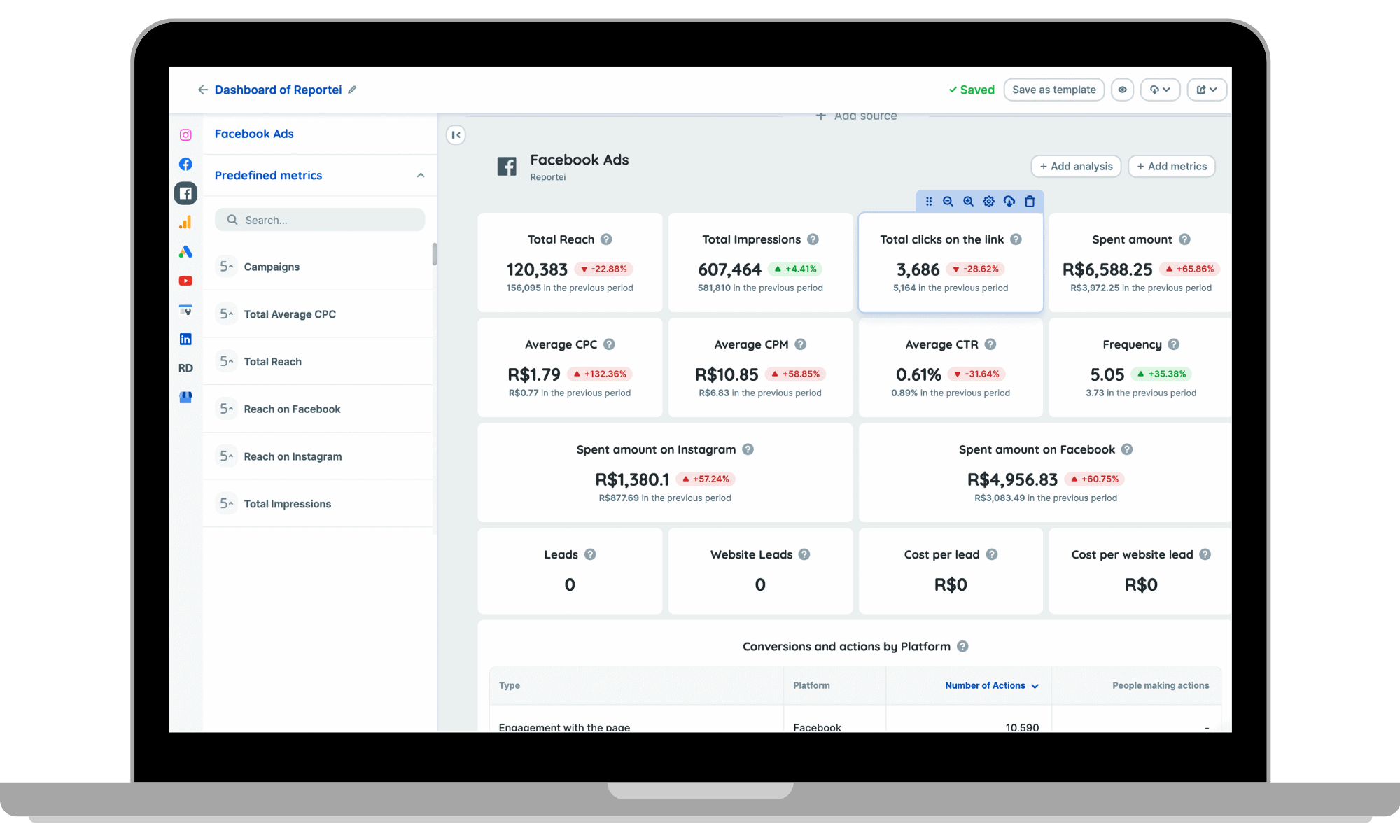 Generate Facebook reports in a few clicks
Did you see how easy it is to stay on top of the results obtained on Facebook? Generate your Facebook reports now and check all the details of Reportei up close!
---
FREE TRIAL
Check which metrics you find on Facebook Ads reports
With Reportei, you also have a complete Facebook Ads report to analyze the performance of campaigns for both Facebook and Instagram.
The general metrics you find about Ad Manager results are:
Total reach;
Total impressions;
Total clicks;
Amount invested;
Average cost-per-click (CPC);
Average CPM;
Average cost per thousand (CPM);
Average Click-through Rate (CTR);
Frequency;
Number of ads.
In addition, you can also track the separate data for each social network, with Clicks, CPC, reach and amounts invested on Facebook and Instagram.
In the table of actions by platform, you can see all interactions made from your ads, such as clicks on links, reactions to posts, views, sharing of posts, comments, among others.
With graphics, you can access information about your audience and their behavior, such as reach by device and impressions and reach by age, gender and time.
Facebook Ads reports in a few clicks
Reportei is the best tool for generating Facebook reports because it is fast, easy to use, comprehensive, and customizable. With Reportei, you can get all the information you need to track your progress and optimize your campaigns easily and efficiently. So why wait? Try Reportei today!
---
FREE TRIAL
Join more than 1,500 agencies and freelancers on Reportei
Start tracking social media metrics to further improve your digital marketing strategies and communicate with your customers.
More than 1,500 agencies, freelancers and companies have already discovered how the presentation of results with the complete reports of Reportei makes the difference in relationship and account retention.
Now it's your turn to get closer to your customers and make your team's work routine more productive.
Try Reportei for free for three days and see how easy it is to analyze the metrics of Facebook and Facebook Ads reports!​
In addition to the Facebook and Facebook Ads reports, generate unlimited reports from Instagram and Instagram Ads, Google Analytics, Google Ads, YouTube, LinkedIn and LinkedIn Ads, Google Search Console, Google My Business, Mailchimp and RD Station. Discover our plans, choose the one that best adapts to your company's reality and follow the metrics of your projects!