Leverage the report automation feature and make your marketing analysis routine more productive
Ever imagined having more agility in collecting data from social media and time available to dedicate yourself to planning your strategies? That is exactly what Reportei's report automation feature offers!
In this article, we introduce you to how this functionality makes the team's routine more productive and communication with the client more efficient. Plus, a step-by-step guide to set up your automations on the platform. Check it out below!
What is Reportei's report automation?
As data analysis becomes increasingly relevant for digital marketing strategies, agency professionals, freelancers, and companies are looking for ways to further optimize metric collection and allocate more time for efficient social media analyses.
In this scenario, Reportei stands out by offering features that simplify this process, particularly the report automation functionality.
Within our platform, this feature represents a significant step towards team efficiency and productivity, as it allows reports to be generated and sent automatically at pre-defined intervals – such as weekly, bi-weekly, or monthly – eliminating the need for frequent access to our app.
Although manual report generation was already quick, considering that Reportei is capable of capturing metrics from integrated channels in seconds, automation makes this process even more streamlined.
In a short time, you can set the desired period for receiving reports, select the media to be monitored, and choose the notification method, either through the platform itself or via email – for yourself, the team, or the client.
Below, we elaborate in more detail how this feature can be leveraged in the routine of your agency or company.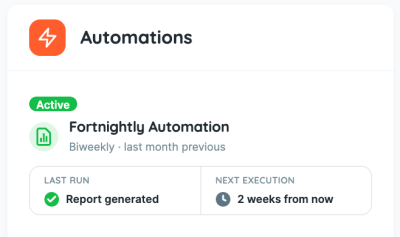 Create Automations for Your Monthly Reports
Automating reports through Reportei brings a host of advantages for those who adopt it. Among the main ones is the increased productivity for analysts, who can now exclusively focus their time on result analysis.
Imagine, for example, a professional who manages and creates reports for different accounts monthly, or needs to document the outcomes of their activities every week.
Even though the time spent creating each individual report might not be excessive, as metrics are automatically captured, the sum of these saved minutes can make all the difference when it comes to conducting deeper and more valuable analyses.
So, one of our top tips for making the most of this feature in your routine is to set up automation for your recurring reports. Every time a new report is generated, a notification will arrive in your email or app, allowing you to initiate your analyses.
Keep Your Clients Updated with Report Automation
Additionally, report automation is an excellent way to keep clients or decision-makers updated on project progress.
This is because reports can be generated and sent directly to them, maintaining a continuous level of engagement with the marketing team. This ongoing commitment is crucial for client retention, as they have easy access to information and can recognize the agency's efforts toward business success.
However, it's important to note that report automation should not replace the presentation of results and the communication between parties. It's crucial to schedule meetings, discuss insights derived from the metrics, and talk about future plans to ensure solid communication and understanding of ongoing strategies.
In summary, Reportei's report automation is a tool that enhances efficiency and keeps all stakeholders well-informed in a practical and agile way.
How to Create a Report Automation in Reportei?
Setting up report automation in Reportei is much simpler than you might think. Here's the complete step-by-step guide: In the client dashboard within Reportei, find the "Automations" feature, available next to the Timeline: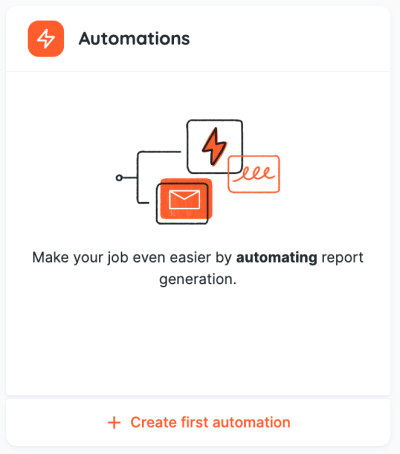 Click on "Create First Automation" to start the process; After that, the first step is to define the frequency at which you'd like to receive your reports (monthly, bi-weekly, or weekly), as well as the time and day you want to be notified. Also, add a title that identifies this specific automation;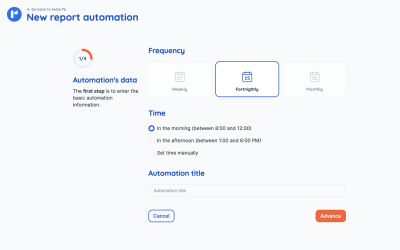 In the second step, choose which template you'd like to use for your reports. You can use one of our pre-defined layouts according to the project's objective, expert templates, or a custom template designed by your team;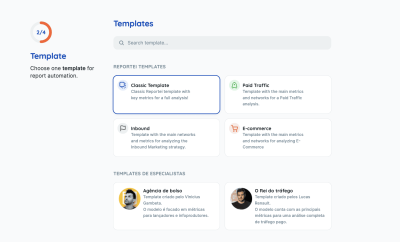 Next, define the analysis period—previous month, fortnight, or week—, the media sources from which the data will be captured, and add a title and subtitle to the document;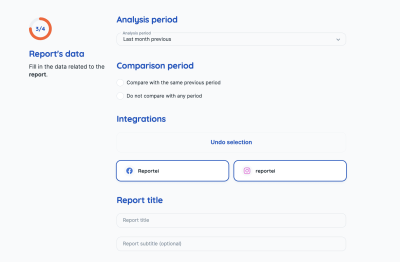 In the final step, you can choose how you'd like to receive notifications of the generated reports, either through in-app alerts, by email (your own or a team member's), or directly sent to the client's email.
Once that's done, simply click on "Finish and Create Automation," and track its status through the client dashboard. In this tab, you can see if the last run was successfully executed and when the next one is expected.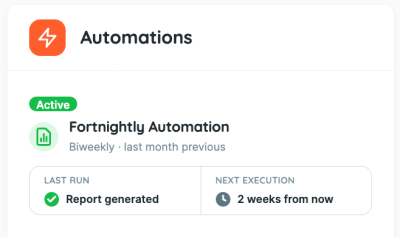 How many automations can be created in Reportei?
The report automation feature is available in all Reportei plans. However, the number may vary depending on each plan, as follows:
Starter: 1 automation per project;
Starter: 3 automations per project;
Pro: unlimited automations.
Want to know what other benefits each Reportei plan offers? Click on this link to find out!
Discover other features to optimize your analysis process
Alongside the report automation feature, Reportei also offers various other benefits to make your analyses more strategic. The key ones are:
Custom dashboard creation for practical and agile tracking of all projects and their results;
Performance indicators control, where you can configure the client's goals and key performance indicators (KPIs), to maintain precise tracking and make faster strategic decisions;
Timeline feature, to create a record of all project actions and valuable history for both the team and the clients.
Join the over 4000 companies that use Reportei to optimize their reports and analyses. Test the tool for free for 3 days and discover the benefits of report automations and other features!