Discover how Artificial Intelligence can assist in generating more accurate and efficient reports in your daily routine.
With the evolution of digital marketing and the increasing need to base strategies on data, Artificial Intelligence (AI) emerges as a critical tool for more agile, accurate, and efficient social media analyses.
If reports used to be a time-consuming task, requiring hours of manual analysis to extract valuable insights, AI now revolutionizes the process, allowing you more time to focus on what matters most: the project's success.
In this article, we'll explore 5 reasons why you should consider adopting Artificial Intelligence in your digital marketing reports, taking your actions to the next level. Let's dive in!
Why Use Artificial Intelligence in Digital Marketing Reports?
Beyond reducing time spent on manual analyses, AI makes a significant difference when obtaining valuable insights for any digital project. Below are reasons why this resource can make all the difference in your routine.
1.Time-saving in Analyses
In digital marketing, time is a precious resource. Therefore, it's crucial that report analysis be efficient and facilitate quicker decision-making. Artificial Intelligence offers an effective solution to the time management dilemma.
After all, it's a resource capable of processing large volumes of data in a very short time, identifying trends, patterns, and issues within minutes. This not only saves time but also frees up professionals for more strategic tasks like developing innovative actions and optimizing campaigns.
2.Detection of Trends and Patterns
AI's ability to detect trends and patterns in digital marketing report analysis is one of the most impactful reasons for its adoption. Equipped with advanced algorithms that cross-reference large volumes of data, it identifies correlations that are often hard to perceive through manual analysis.
That is, it can track user behavior, seasonal changes, consumption preferences, and other crucial factors to determine emerging trends and patterns shaping the market.
This not only provides marketing professionals with a deeper understanding of the competitive environment but also allows them to adjust their strategies based on concrete data, maximizing campaign impact.
3.Gaining Valuable Insights for Strategy
Additionally, with the ability to rapidly analyze complex data, AI offers insights that can completely transform a company's marketing approach. From this, it identifies market opportunities that assist in making informed decisions and allocating resources more efficiently.
Along with this, it contributes to the effective personalization of strategies, segmenting the target audience based on accurate data and enabling the creation of more relevant and impactful campaigns.
4.Content Personalization
Content personalization is a key component for the success of digital marketing strategies, and Artificial Intelligence plays a central role in its realization.
By analyzing extensive data sets, AI helps customize messages, offers, and experiences for customers in a highly segmented manner, meeting their individual needs.
After all, personalization isn't limited to just the customer's name in email marketing, for example, and should extend to delivering relevant content at the right time through the most appropriate channels, significantly increasing engagement and conversion.
5.Paid Campaign Optimization
Through AI-driven report analysis, paid traffic campaigns can be continuously adjusted and refined. After all, this resource not only monitors performance but also identifies which ads, keywords, and target audiences are yielding the best results.
With this, adjustments can be made more quickly, reallocating budgets to higher-performing areas and eliminating wasteful spending based on concrete data.
Furthermore, it can predict performance trends based on data, aiding marketing professionals in making more strategic decisions. The continuous optimization of paid campaigns not only improves return on investment (ROI) but also saves time and resources that would otherwise be spent on lengthy manual analyses.
How to Use Artificial Intelligence in Reportei Analysis
From now on, in addition to capturing metrics automatically and within seconds, you can use Artificial Intelligence to perform more accurate analyses within your Reportei reports and gain insights to improve your strategies.
Next, discover details about these new features and how to incorporate them into your project routines. Let's go?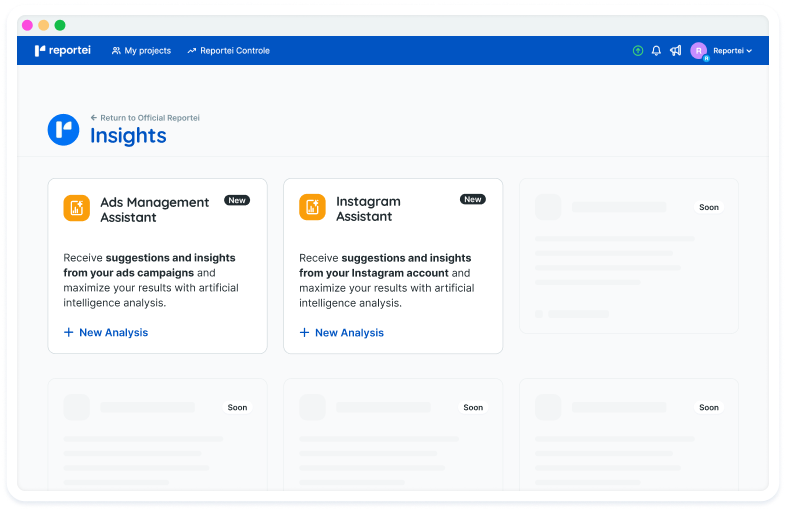 Automated Report Analysis with Artificial Intelligence
The first major update in Reportei AI is the availability of automated analyses within the reports created on the platform. When selecting to conduct analyses with AI during the document setup, you gain access to textual interpretations of the data in each integrated channel. See the example below:

Besides analyzing the overall scenario and cross-referencing the data to find more specific situations, the AI tool provides suggestions for improving strategies, allowing you to focus on what truly matters: quick and efficient decision-making for business success.
Traffic Management Assistant
Alongside automated analyses, Reportei AI comes with a specific area to gain insights on your projects. In this space, a team of assistants is available to help with strategies for paid traffic management, Instagram, and other crucial digital areas in the future.
For example, in the case of the paid traffic assistant, you can configure it to perform a general account analysis, find out how to increase the CTR, decrease the CPC of the campaigns, or achieve other objectives.
Instagram Assistant
The Instagram assistant can be set up to provide insights on increasing brand awareness on the network or engagement with posts. This way, you get more tips on making your content more relevant to your persona, thus making your network presence stand out even more.
Gradually, these and other assistants will evolve in the support they offer. Moreover, there will be an opportunity to deepen the conversation within the chat, making their use even more productive in your routine.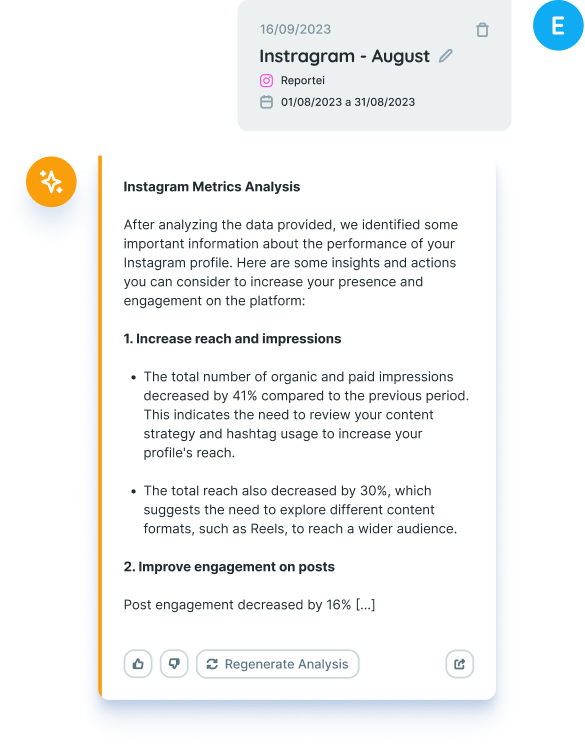 How to Subscribe to Reportei AI?
Reportei AI is available in all our platform's plans, with a set number of AI analyses to help in your projects. However, for those who want to go beyond, there are specific plans that will allow you to use the feature comfortably across all registered projects and have unlimited access to assistants.
Best of all, the feature's launch came with a special offer, providing a 25% discount on Reportei packages with AI. Take advantage now to check out the new plans and initial offers!