Find out the advantages and how to create reports with AI in Reportei. We explain how you can activate this feature in the tool
The development of digital marketing reports using Artificial Intelligence (AI) makes a significant difference for those looking to boost productivity and focus on crafting more precise strategies for the project.
That's why Reportei now offers the functionality to generate automatic analyses using AI, facilitating data cross-referencing across each integrated channel, obtaining valuable insights for future actions, and making decision-making quicker in the daily routine.
In this article, you'll discover the benefits of using Reportei AI and how to activate this feature in your reports. Read on!
Advantages of Using Artificial Intelligence in Reports
Using artificial intelligence in digital marketing reports offers a range of benefits for our clients. Here are the key ones:
Time-saving in analyses: Efficient processing of large volumes of data in record time enables professionals to focus on strategic tasks, enhancing productivity.
Trend and Pattern Detection: AI identifies complex correlations and hard-to-spot patterns, offering precise tracking of user behavior, seasonal changes, and consumer preferences.
Insight Gathering for Strategy: This helps identify market opportunities faster and allocate resources more efficiently.
Content Personalization: Customizing messages, offers, and highly segmented experiences to deliver relevant content to the audience, at the right time and through the appropriate channels.
Optimization of Paid Campaigns: Continuous monitoring of ad performance, keywords, and target audiences allows for quick adjustments and budget reallocation to high-performing areas based on solid data, increasing ROI.
In summary, using AI in reports not only saves time and resources but also improves the accuracy, relevance, and efficiency of strategies, taking digital marketing to a more advanced and impactful level.
How to Create Reports with AI in Reportei?
Creating digital marketing reports with Reportei AI is much simpler than you might think. After all, this feature is already available in all accounts to be tested, requiring only the activation during the documento setup stages.

Once done, just click to generate the report. In addition to the automatic capturing of metrics from integrated media, complete textual analyses will be provided for each channel, showing the relationship between the obtained data, strategies that performed best over the period, and insights to improve future actions.
How are the Automatic Text Analyses Produced?
The automatic analyses provided in reports are produced through efficient integration between Reportei and OpenAI's API—the same company responsible for developing ChatGPT.
In this process, our platform automatically sends the captured metrics to the API, which in turn returns with a precise textual analysis of the supplied information, also including future insights.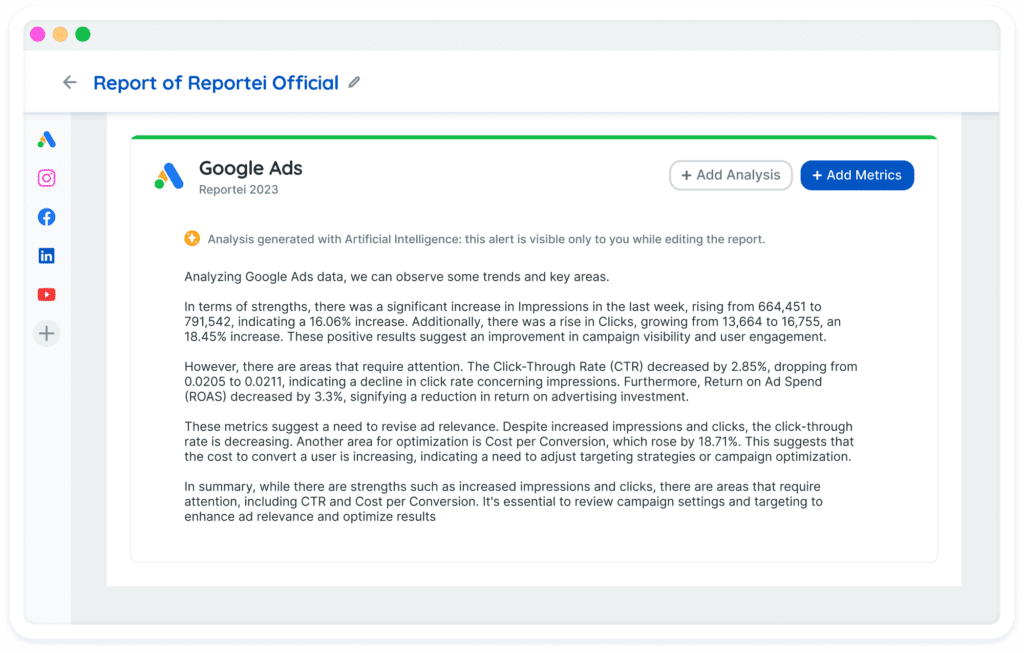 Not only is this process incredibly practical, but it's also very secure, as the sent data is not used to feed other OpenAI tools—ensuring the client's metric confidentiality within Reportei.
Alongside this, you also have the freedom to edit the text to suit the needs of the client who will read this report or record future strategies made by the team.
More Convenience for Analysis and Time for Planning
By adopting AI in creating your reports, you gain valuable time to plan more effective strategies. After all, automation simplifies the analytical process, allowing data to be interpreted and presented quickly and accurately.
With this, the team is more free to focus on what really matters: crafting innovative and personalized strategies for each client's needs.
Another important point is that manual data analysis will not always be 100% efficient in finding the relationship between the data, detecting project bottlenecks, and agile solutions to problems.
On the other hand, with AI, insights are delivered clearly and concisely, going beyond the insight obtained with manual analysis and providing a deeper understanding of campaign performance.
How Many Analyses Can be Conducted in My Account?
As we mentioned before, Reportei AI is already available for testing in all accounts. However, the number of available analyses varies according to the plan you have subscribed to.
In the Starter package for up to 5 projects, for instance, 10 analyses are allowed, with the text generated for each report media counting against this monthly total.
This means that you can test the feature and understand how it can help your clients before moving on to Reportei AI-specific plans, which not only offer an ideal number of automatic analyses for use in all projects but also provide unlimited access to traffic management and Instagram assistants.
Visit our plans and pricing page to compare the benefits of each package for your clients!
What Other Features Are Available in Reportei AI?
As you may have seen above, our AI tool does not just come with automated analyses but also with assistants that help you gain more insights into the specific strategies of your project.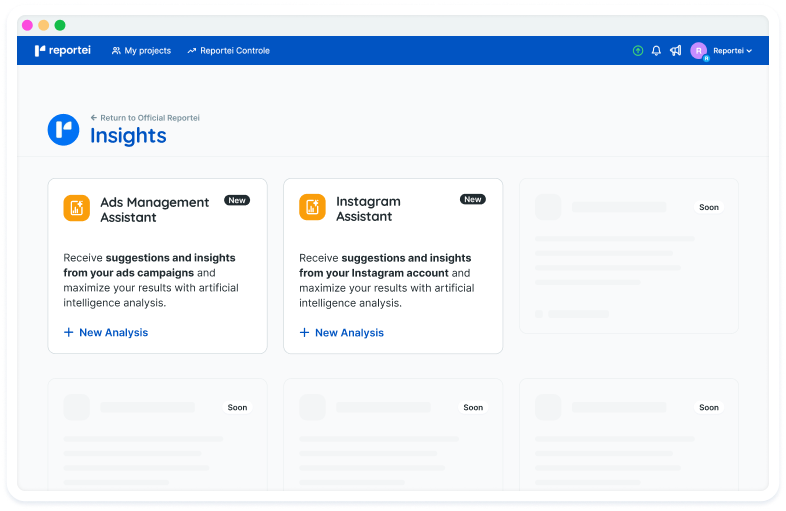 Currently, traffic management and Instagram assistants are available to make your campaigns and content more efficient. However, soon, new assistants will be activated to assist in SEO strategies and other crucial channels for digital marketing.
To take advantage of this tool, you simply need to choose the assistant in the specific area of Reportei AI, set up which period you wish to analyze, and the objective you aim to achieve with this analysis. In the case of Instagram, for example, you can request tips on how to enhance brand awareness or profile engagement.
From there, the feature will return with ideas to make your content more relevant and improve your social media presence.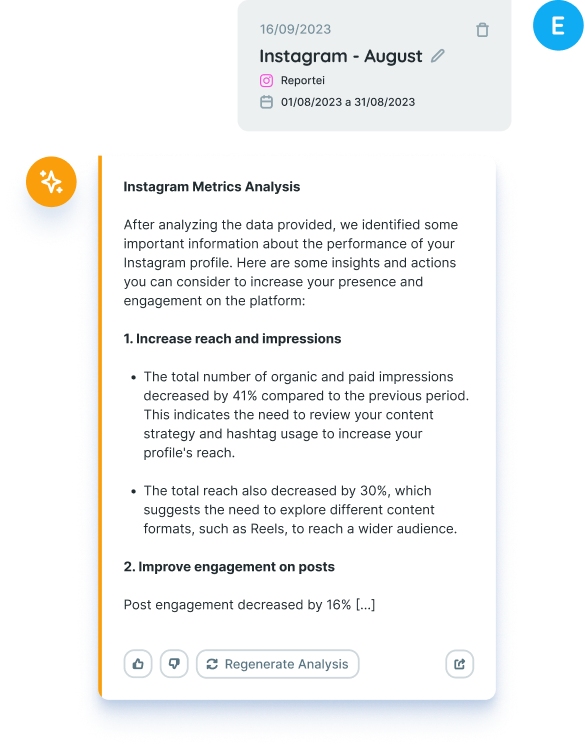 Did you like getting to know how the automated analyses generated by AI and the assistants of Reportei AI work? Then request a free 3-day trial now and discover how we can assist in a more strategic routine for your digital marketing projects!