Check out our list with the 6 best free/paid image banks
For the routine of a marketer, knowing the best paid and free image banks on the internet is essential. You can have access high-quality graphic materials that suit your blog and social media strategies.
Image banks will also ensure you have photos, vectors, and other original pieces with a proper license for use. Of course, not everything online is free for anyone to use as they see fit. Using an image bank (fee or paid) gives you legal protection, saving you the hassle you might have from using images without the copyright holder's authorization (or illegally). 
We've written this article to help you choose the platform that best suits your projects. Here is a list of 6 that we recommend. Check it out below!
The 3 best free image banks
If you choose to go with free images, several banks provide them safely. You won't have to worry about having a license to use them for your projects. Three of these are Pixabay, Unsplash, and Pexels.
Pixabay
Pixabay is one of the most popular free image banks on the internet. It gives you access to more than a million photos, illustrations, vectors, and videos you can use for your social media or blog content. 
There are quite a few categories you can browse through to find the perfect images for your projects. You can also filter results by category, orientation (vertical or horizontal), size, and color.
Also, according to the platform, all content released with a Pixabay license is safe to use and doesn't require permission from or crediting the author.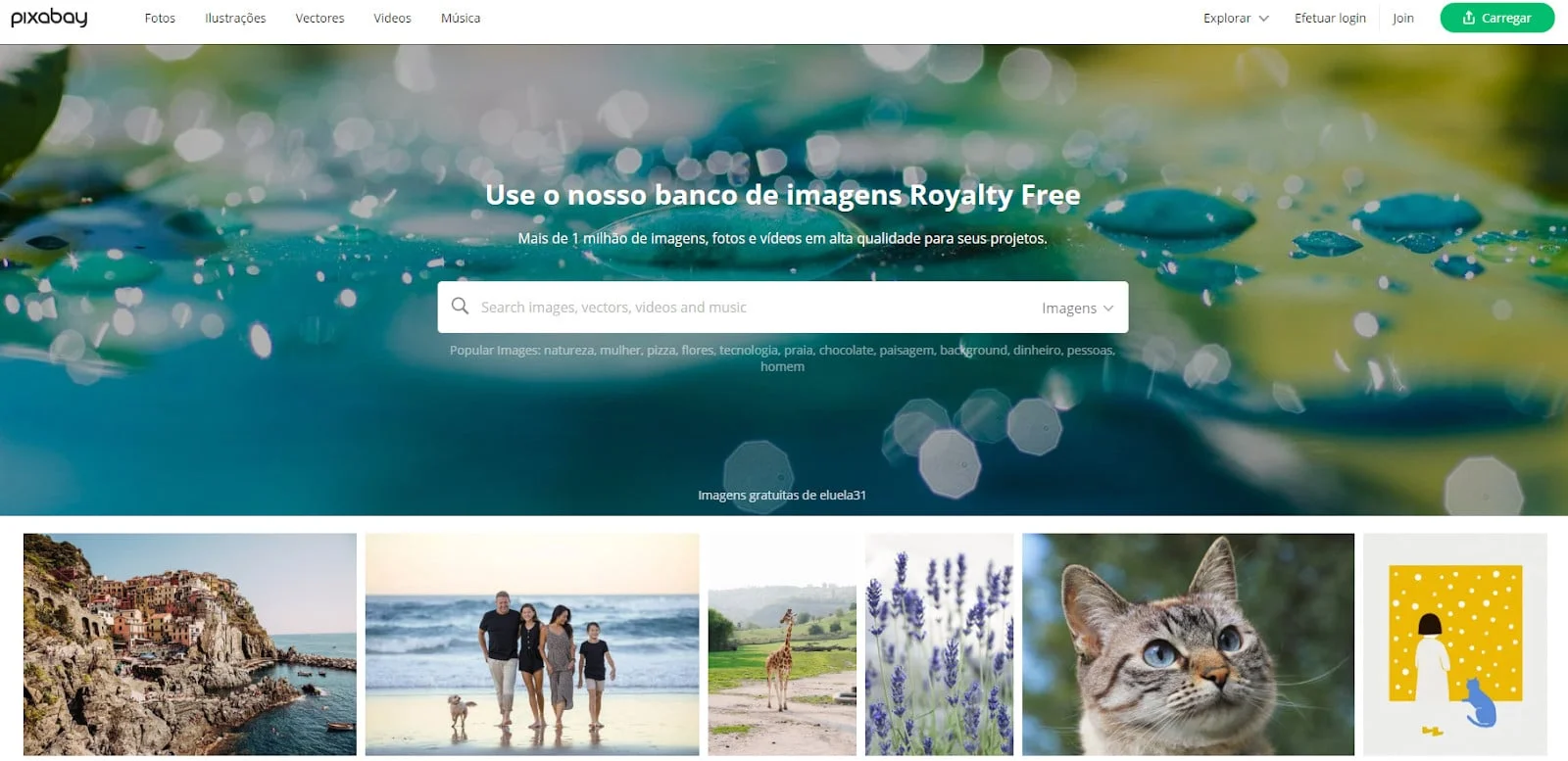 Unsplash
Unsplash is another site on the list of best free image banks. It's a platform with more than two million free high-quality photos.
In total, more than 200 thousand photographers make up the community and contribute to the image bank. The goal is to use images licensed by Unsplash, so it's easier to invest your creativity in producing posts.
Pexels
To end our list, we recommend Pexels, where you can download high-quality photos and videos from several different categories, of different sizes, and colors.
According to the site, to keep its license as simple as possible for users, crediting is not mandatory (though it is appreciated). You can edit and use images for all your projects, like social networks, blogs, or printed materials.

The 3 best paid image banks
If your goal is to have a wider variety of photos, videos, and vectors and move your creations forward, using a paid image bank is an excellent option. Below are three of the best on the internet: iStock, Shutterstock, and Adobe Stock.
iStock
iStock is one of the most popular image banks in Brazil. Subscribing gives you access to photos, videos, illustrations, and exclusive vectors of the most diverse themes, without having to worry about licensing. 
The platform has two plans. The Basic Subscription (access to the Essentials collection images), and the Premium Subscription (access to Essentials collections and Signature). Prices range from R$149,00 for annual subscriptions to R$ 199,00 monthly.
The packages also give you from 10 to 750 image downloads a month. The good news is that any downloads you don't use are added to the next month's limit.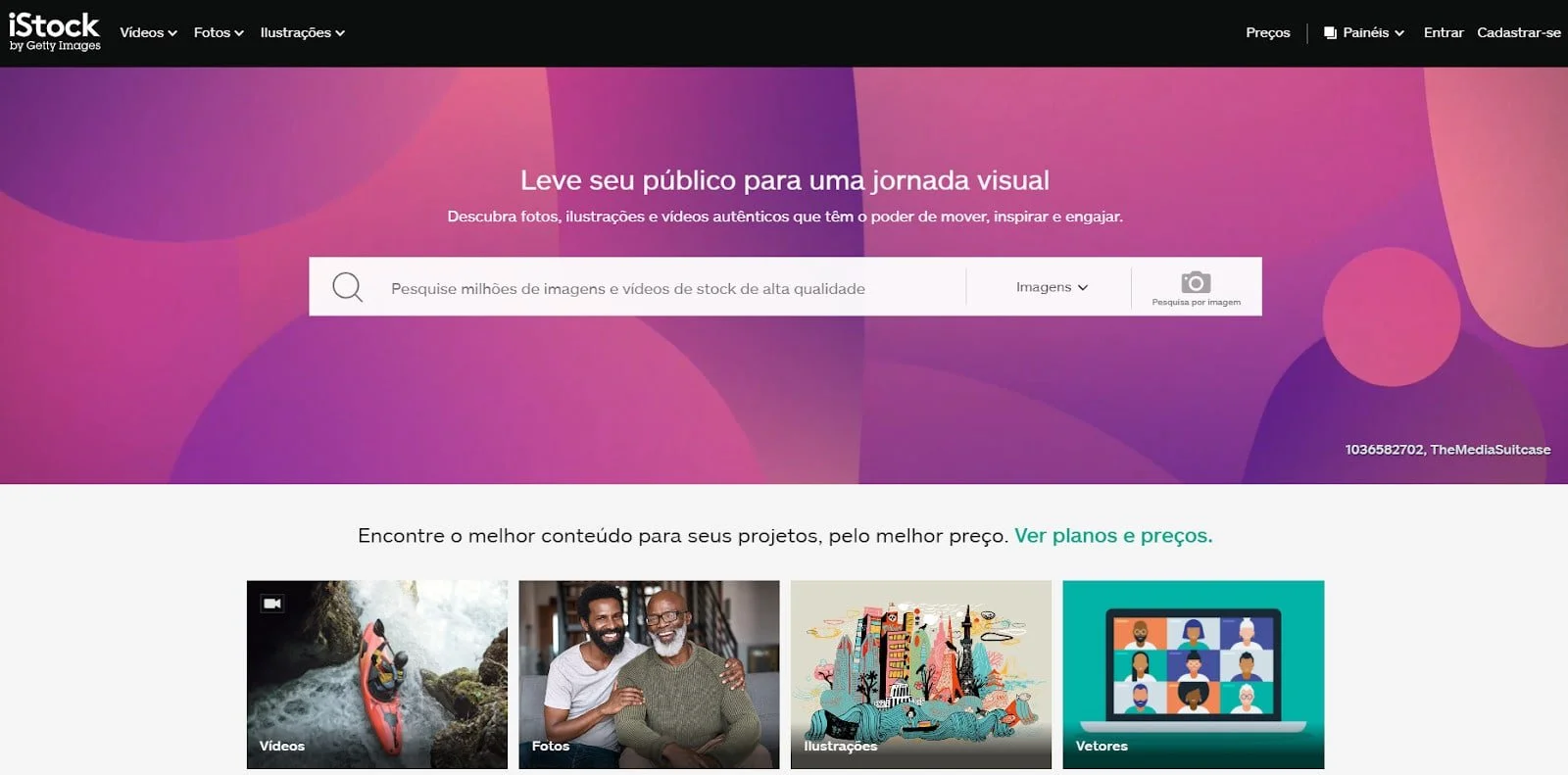 Shutterstock
Shutterstock also stands out as a paid image bank. The platform gives you access to photos, videos, vectors, illustrations, and even music, all royalty-free for almost any purpose.
 With more than 350 million images, and 107 thousand added daily, you can choose from several plans:
Single-user subscription starting at $ 29,00 with ten downloads allowed;

On-demand packs starting at $ 49,00 for 2 users;

Subscriptions for teams starting at $ 379,00 for up to 2 users

Enterprise Account with customized services for big businesses
Shutterstock offers a free trial period which includes 10 image downloads, so you can make sure it's the image bank that best suits your projects.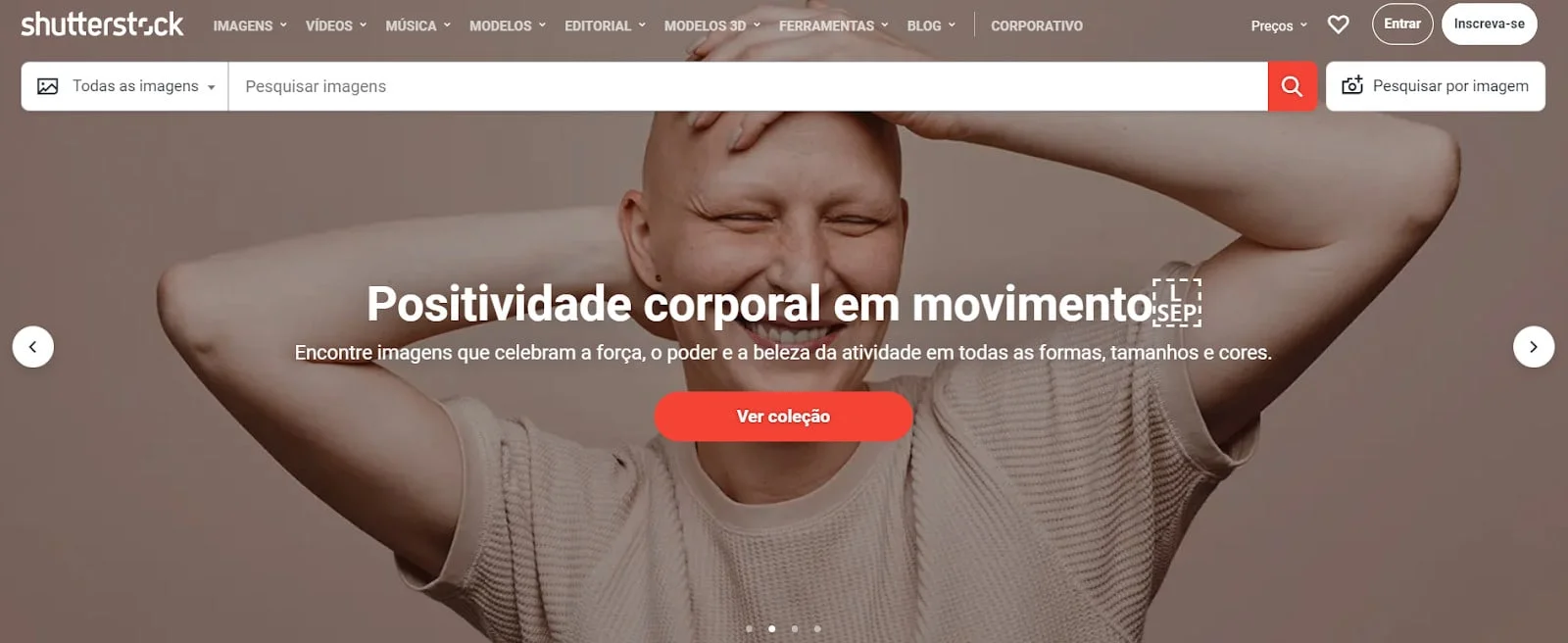 Adobe Stock
We couldn't leave Adobe Stock off our list. The site has a wide variety of photos, videos, vectors, illustrations, songs, and models you can edit directly on Photoshop, Illustrator, or InDesign.
One of the greatest advantages of using this platform is its integration with Creative Cloud. It's easier to work with searches, viewing, and licensing images on Adobe apps. 
Subscriptions are available starting at R$ 124,00/month for the annual plan or R$ 215,00 monthly, including 10 downloads. You can also purchase plans for teams and larger businesses.