Find out everything that happened in the Reportei Connect live, the new report analysis feature with Artificial Intelligence and how to have this new feature in your account
The September 2023 edition of Reportei Connect introduced an amazing new feature: the launch of Artificial Intelligence (AI) capabilities on our platform.
Now, you can go beyond automated metric collection and achieve even greater productivity in your digital marketing analyses, as well as access insights provided by our traffic management and Instagram assistants.
In this article, we'll cover everything you need to know about the arrival of Reportei AI, the benefits this feature offers, and how to use it in your account. Keep reading!
Introducing Reportei AI
With the advent of ChatGPT and other AI tools, the conversation around the use of AI in the daily work routine has gained momentum among digital marketing professionals. After all, such platforms have been instrumental in optimizing time and taking content production and other digital services to the next level.
With that in mind, and recognizing the ever-growing need to develop strategies based on data, our team has developed Reportei AI: a feature that combines automated analyses and insights so that analysts can focus on more effective actions for their projects.
In other words, the AI in our platform serves as a sort of co-pilot in interpreting the results of each channel, providing a detailed view of metrics and what's required to continue achieving optimal returns or to navigate around obstacles.
Consequently, the time spent on report production is optimized, allowing for quicker and more accurate decision-making, ensuring your project stays on the right track.
According to our CTO, Rodrigo Nunes, increased productivity has always been aligned with the value delivered by Reportei. Therefore, it's only natural that the platform follows market innovations and incorporates AI-related features into users' daily routines.
Initially, two main features were launched: automated analyses generated by AI in the report and an AI area available in each client's account, with assistants focused on delivering valuable insights according to the needs of each project. Below is how each of them works!
AI-Generated Reports
The first feature already present on the platform is the report generated with artificial intelligence, which aims to deliver comprehensive textual analyses of the channels you use in your strategy.
When creating your report, you can select this option and see the document automatically populated not only with collected metrics but also with precise interpretations of this data and its impact on your project.
The goal of this feature is to simplify the process of cross-referencing data on each social media channel, helping you gain a more comprehensive view, identify patterns, and focus on planning your next steps. To take advantage of this function, simply activate it before clicking to generate a new report.

In addition to providing an overall view of what happened, the tool also provides insights into strategies that worked and areas for improvement. In other words, it helps guide your decision-making process. Here is an example of an analysis automatically generated in one report: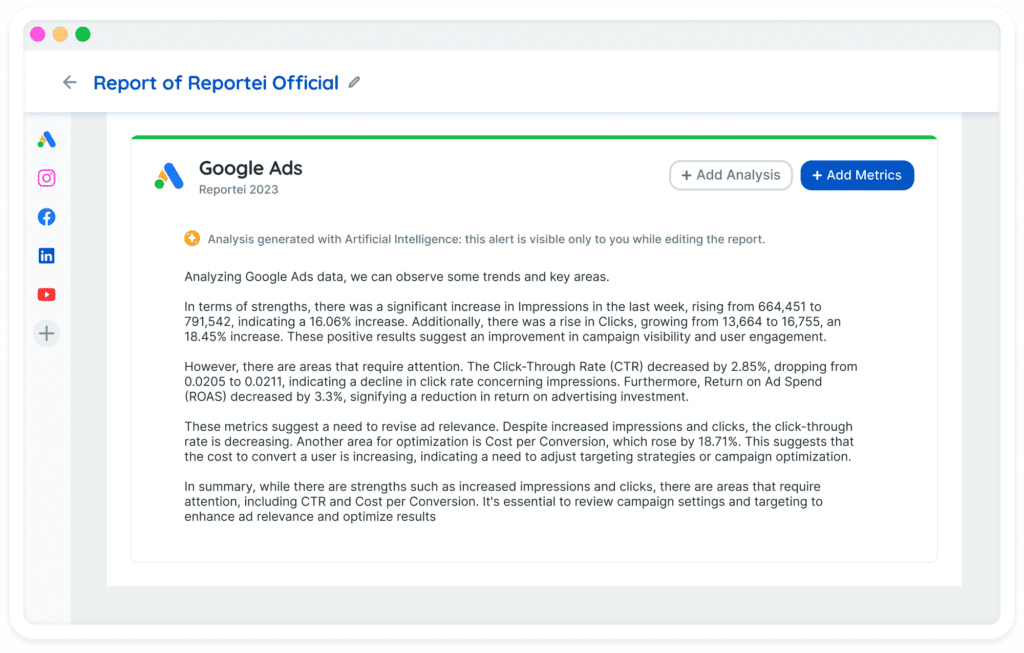 This text can be edited and supplemented, which also aids in data presentation and delivery to clients.
Furthermore, for now, it only takes into account the metrics shown in the selected template. So, if you want to analyze some "hidden" data that is important to the client, it's recommended to do so through a customized layout for the project.
AI Assistant
Alongside the automatic report analyses, Reportei has also created a specific area for Reportei AI, featuring assistants ready to help with different digital marketing strategies.
So far, the assistants for paid traffic management and Instagram are available, focused on using customer data to provide valuable project insights.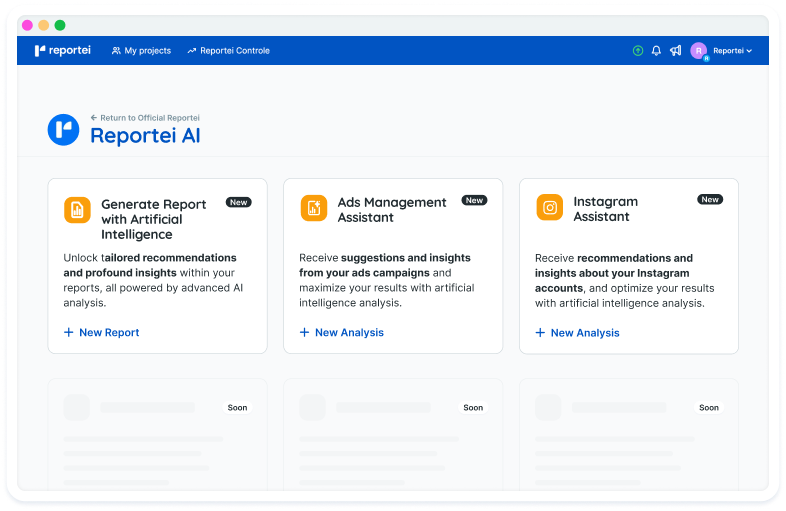 To take advantage of this tool, simply choose the assistant, configure the period you wish to analyze, and define the objective you aim to achieve with this analysis. For Instagram, for example, you can request tips on how to increase brand perception or profile engagement.
In moments, the feature will return with ideas to make your content more relevant and improve your social media presence.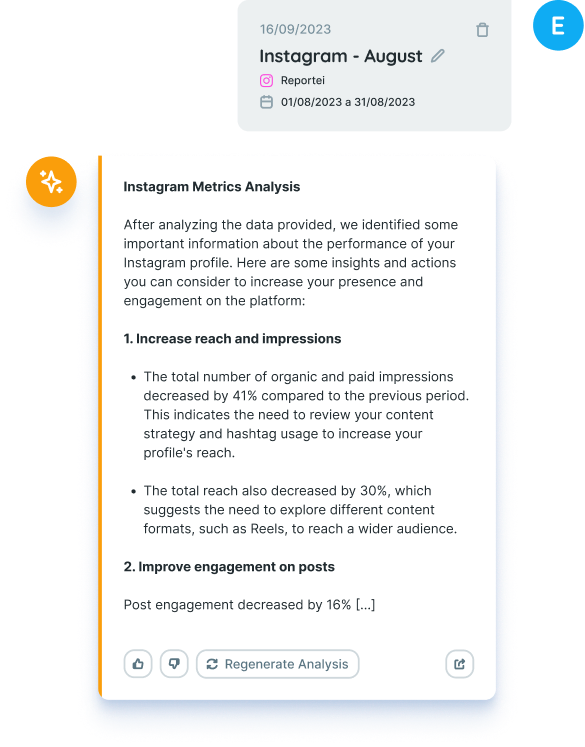 Gradually, these and other assistants will be enhanced to provide even more support and point out the directions to be followed. In addition, there will be the option to deepen the conversation within the chat, making its use even more productive.
Is Reportei AI included in my current plan?
The good news is yes, all plans will include a certain number of AI analyses to assist in your projects. However, for those who wish to go beyond, there are other specific plans that will allow you to use the feature across all registered projects.
For example, suppose you are a subscriber to the Starter plan for up to 5 projects. You can already test our AI tool with 10 analyses per month and limited access to the paid traffic and Instagram assistants.
It's important to note that each channel's analysis already counts against the total allowance per month. Therefore, you may be able to test it on just one or a few projects, depending on the number of integrations for each client.
However, we have also released specific plans with more available analyses and unlimited access to Reportei AI assistants. For the same plan cited above, 50 AI analyses per month are allowed, averaging 10 per project.
The best part is that you can upgrade your plan to have more analyses and unlimited assistant access with a 25% OFF launch period discount (limited time offer). Check out the new plans and initial offers now!