Record project milestones, events, and campaigns with the Reportei Timeline
Can you imagine telling your digital marketing project in chronological order, considering all campaigns and most notable results and achievements? Reportei's Timeline lets you do just that!
Released in 2018, our Timeline helps you use data and your marketing actions in a project to tell a story. That makes smooth communication with decision-makers, the agencies, company leaders, or the team working on the project.
In other words, it's a more practical and comprehensive way of recording the milestones of each project and how invaluable that makes your services. 
In this article, we cover the timeline basics and three examples of how to use it. Keep reading!
What is Reportei's Timeline?


Our Timeline was inspired by Facebook and offers a unique way of recording and presenting project milestones to your client. These can be campaigns, outstanding results, important meetings, or others.
This tool gives you a clearer picture of the client's journey in the agency, strings events together, and makes the information you deliver to decision-makers more straightforward.
While the reports show you data and let you compare between periods, the Timeline puts results into context, building a history for each project.
So, besides simplifying communication,  it's a great resource for centralizing and managing data in companies.

How does the Timeline work?
You can access the Timeline in any of Reportei's plans and create one for each project. You can also update records for any customers you've integrated into the platform, no matter what goal you've set for the timeline.
Events are called milestones, referring to strategic meetings, achievements, important campaign history, or others, as you can see below:
You can also place milestones in categories to help you identify the event type and channels. For example, a new Instagram campaign can come with the network's icon, making it easily recognizable. 
Another benefit is that you can add a text description of the event as well as images, videos and attachments, and link reports to complement data.
Milestones are organized according to the dates registered, so past events can be added to the timeline for more depth. 
The outcome is a structured timeline available on the project dashboard where you can see the most recent milestones reached by the team.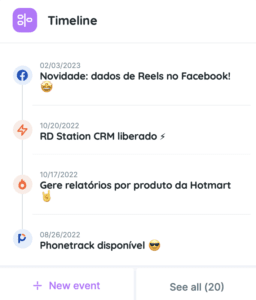 Creating your timeline step by step
Now that you know what the Timeline is and how it works, here's how to start developing one step by step.
Access the project in Reportei and click the Timeline option under Reports;

Then, you can create your first milestone, editing as you go;

Add a title to help you identify the event and starting date;

Write a description of the milestone, and what it represents, and upload any complements;

Choose whether to include any reports generated in Reportei;

Select an icon to represent the milestone;

Then, save and share with the client or team, via email or by generating a link.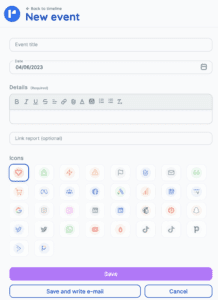 Ways to use the Timeline
Want to know how to make the most of your digital marketing project timelines? Here are three good examples. Keep reading!
1. Creating a project history
As we mentioned earlier, Timelines are a great way of centralizing project information and sharing it with team leaders and other members. That will keep everyone on the same page and help internal communication flow smoothly. 
For example, you can add milestones for strategy meetings, the offset and end of campaigns, and reports presented to decision-makers. 
In fact, this process contributes to managing knowledge and makes any changes in the team easier.

2. Sharing results with customers
The second way of using the Timeline is to share results with clients. Having a history helps you track the evolution of your project more easily and manage expectations for future actions.
Another way to use the Timeline to relay results to clients is to record data and project progression faster. That way, decision-makers won't have to wait for monthly reports. 
It's easier to follow up on and ok action or necessary changes quickly.

3. Registering specific campaigns
If a client's company works with product launches and seasonal campaigns, the planning, execution, and result analysis should be recorded. 
What better way to do that than by using a Timeline? It makes the process visual, and you can refer to it when planning campaigns for insight into what worked and how to get better results. 
Did you like reading about our Timeline and how to use it on the go? Start your free 3-day trial to know more and check out other handy features!