Digital marketing tools for a analysis
With the evolution of studies and planning of actions directed to the digital media, the tools for analysis of the competition is gaining more and more important in the lives of the marketers.
After all, a good research needs to be based on data and results; going far beyond just looking out if the neighbor's grass is actually greener and more enchanting than yours.
So we prepared this post especially to talk about the importance of investing in competitive analysis tools and to indicate four that will become essential to your strategies. Check out!

The importance of competition
If the neighbor's grass is ever greener then why not analyze his methods to understand what he is doing right and take advantage of the ideas to make his grass showier too?
It's important to remember that your competitors can provide valuable insight into audience behavior, generating insights for you to improve your strategies and reach your audience more effectively.
What not a guarantee of success, this practice is paramount to help you make decisions that are aligned with the market in which you operate.
Therefore, it is worth taking the time to pay attention to your competitors and invest in tools that help guide your search.
4 competition analysis tools you need to know
Finding information about the competition is not always an easy task, especially when we're starting from scratch and we really need to understand who our competitors are.
That's why we've been able to easily find competitive analysis tools that help us search for important data and improve our performance from them.
Check out four of these tools we've selected for you:
1. Similar Web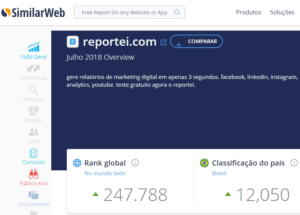 SimilarWeb is a simple and intuitive tool that facilitates the analysis of competition traffic and the comparison with your own data.
Here you keep a close eye on your competitor's SEO strategies and the overall performance of your sites from important metrics like visitor numbers, exit rates, and traffic sources.
In addition, those responsible for SimilarSites, which allows you to discover, free of charge, sites that have similar content to yours and qualify those that are competitors.
2. BuzzSumo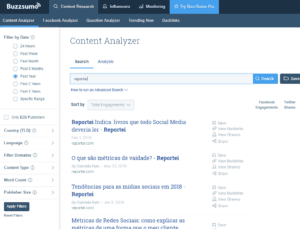 BuzzSumo is the ideal tool for anyone who works with marketing content and is always looking for new ideas and ways to create improvements for their strategies.
When you search on your competitor's domain, you receive information about the performances of your content and the best formats for each media. Besides that, you can also focus on sharing data on social networks, which help provide insights for the development of your work.
The tool has plans that fit every company and agency structure, enabling you to take a free trial for a week before hiring the one that best fits your reality.
3. Alexa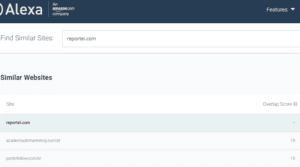 The competitive analysis tool provided by the Alexa platform allows you to find competitors you didn't know from information about common visitors and keywords.
When you search for your own domain or the competitors you know, you'll find important information about websites that are similar to yours.
With them you can compare statistics on traffic, demographic information, terms that can be availed, and partnership opportunities for guest posts.
4. SEMrush
SEMrush is one of the most complete platforms when it comes to monitoring the competition. When you type any domain in the tool's search bar, you instantly receive information about your top keywords and backlinks, as well as data about organic and paid searches.
So it's very easy to keep track of the performance of your major competitors' website, isn't it?
Now let's start working. Pick the tools that are ideal for the development of your work and start to improve your strategies.
Did you like our article on competitive analysis tools? Then subscribe to our newsletter and stay on top of others tips that will help you leverage your agency's results!