Here are the banner dimensions on Google Display and some tips to help you create ads
Google Display is no doubt one of the most comprehensive online advertising networks today. That's because these campaigns include search engines and partner sites to reach potential customers interested in their products or services. 
According to Google, over three million websites, 650,000 apps, and platforms belong to Google (Like Gmail and Youtube). You can use those means to get the right messages to the right people worldwide. 
Most of those ads are served in banners with attractive images and text to draw clicks. So, pay close attention to which formats work best with the audiences you're trying to reach. 
This article covers the advantages of advertising on Google Display, the most popular image sizes for ad campaigns, and a few tips to help you create ads. Keep reading!
The advantages of Google Display
The Display Network offers its users a range of benefits. It helps companies reach their audiences through the millions of sites, apps, and platforms that are part of Google. Some of the main ones are:
Increased brand visibility, as ads will reach users even if they aren't actively looking for a product or service, though they may be interested; 

Creating remarketing campaigns to perpetuate contact with users who have already accessed your website;

Developing campaigns that are in line with your goals, whether that's increasing sales, generating leads, or increasing website traffic;

Creating responsive ads that Google will optimize automatically for better performance.
But like we said before, there are a few things you can do as a traffic manager looking for the best Google Display results. That's especially true when it comes to banners. 
Here's how sizes work on Google Display and what else you need to know when creating your ads. 
Image sizes for Google Display Ads
First, you should know that Google Display Ads are sorted into one of two formats:
Static: served from banners created off the platform in the desired format, with images and text. As the name suggests, these can't be adapted by Google Display will not adapt these ads automatically. 

Responsive: Once you've uploaded resources (like images, logos, and text), Google Display will automatically create ads for you, adapting them to available formats and optimizing them over time for better results.  
That said, there are similar banner sizes for both types. But for static formats, you'll need to upload finished versions of your images. Responsive formats let you add input to help develop your ads.
There are five main banner formats for mobile devices:
Check out the examples below for each measurement: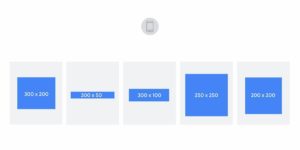 There are more options for computer screens. Here are the 9 main ones: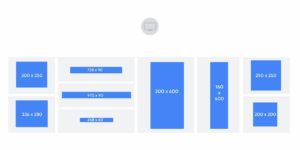 Notice that the only sizes available for both are 250 x 250 and 200 x 200. So when creating static ads in these sizes, you'll need to make one version for both mobile and desktop or adapt your ads, so they're efficient on both.


Image sizes for responsive ads
If you're going to run responsive ads on Google Display, you won't have to worry about individual banner formats. But there are a couple of basic guidelines regarding image sizes for ads. Check them out:
For images in banners, you'll need to follow:
Aspect ratio 1.91:1, with a minimum of 600 x 314 pixels:

Or 1:1 aspect ratio, with a minimum of 300 x 300 pixels.
And for your brand logo:
1:1 aspect ratio, with a minimum of 128 x 128 pixels,

Or a 4:1 aspect ratio, with a minimum of 512 x 128 pixels. 
Tips for successful Google Display Ads results


Knowing what Display campaign banner sizes your ads can come in is a great start! You'll have peace of mind and a higher chance of getting great Google Ads.
But to take it further, the platform has some fundamental tips to help you create ads. Check out 7 of them!
1. Use high-quality images
As obvious as it may seem, using high-quality images makes all the difference as far as making an impression on your audience and drawing them to the offer in your ad. 
So, Google recommends avoiding blurred images. Instead, use those with colorful, neatly presented elements, no borders, excessive filters, or inverted colors.

2. Avoid overlapping texts, logos, and buttons
When developing your art or planning elements for responsive ads, it's best to add texts and logos that complement the image naturally without hiding any part of it. It's also best to avoid repetitive information and illegible text on smaller banners. 
Another tip on Google is not adding a mock CTA button ("Download" or "Buy Now"). Besides not being clickable, they violate the platform's policies.

3. Place the focus on your product
According to Google, white spaces cannot take up more than 80% of images. So, the advertised product or service needs to be highlighted, preferably with a single image and a more realistic background.
4. Ad clear copywriting to the ads
Speaking of efficient writing practices, short titles, and descriptions are recommended, too (max 80 characters). They should make the offer clear and not only used to draw clicks.

5. Include prices and promotions
Information on prices and promotions of the products you're advertising can (and should) be included in your Google Display ads. After all, they influence decision-making and are great for drawing in new customers.
6. Make sure the landing page matches the ad
Another way to improve your Google Display ad results is by linking them to landing pages that make sense to the offer in the ad.
For example, let's say you'd like to advertise a line of products with a special discount. Clicking on your ad should take users directly to the landing page, with available items and discounts.

7. Create more than one ad per group
Finally, Google also recommends creating three or four ads per group, using A/B testing with different images and messages. That will help you understand the ads that resonate the most with your audience. 
Besides that, for responsive ads, Google can make the most efficient combinations and advertise on partner sites. 
Did you like our article on Google Display's image sizes for ads?