Master TikTok Ads in 7 easy steps and boost your audience engagement like never before!
As short-form videos continue to dominate the online landscape, social media platforms that cater to this content type have been gaining popularity with brands and influencers. TikTok is one platform that has attracted more businesses by introducing TikTok Ads.
If you're new to using this platform to boost audience engagement and aren't quite sure how to create your first Ads campaigns, no need to worry! We've put together a comprehensive guide to walk you through each step. Check it out!
The advantages of TikTok Ads: everything you need to know
TikTok Ads Manager is TikTok's advertising tool. It lets you create campaigns to reach a wider audience and boost engagement with your followers.
Advertising on TikTok lets marketers access a global audience with a range of features designed to help them reach marketing goals (like targeting and reporting on results). 
Besides expanding your reach and engagement with potential customers, TikTok Ads comes with other benefits, including:
Drive traffic to your website

Advertise across the entire TikTok app family, including entertainment, news, and content discovery platforms:

A variety of ad formats are available, including horizontal, vertical, and square images and videos

Tools to assist content creators and marketers, such as the Video Creation Kit and Automated Creative Optimization

Precise audience targeting

Tools to monitor campaign performance and make improvements.
With all of these benefits, it's clear that TikTok Ads are an excellent investment for businesses looking to reach and engage their audiences in an enjoyable and interactive way.
Read more: How to grow you TikTok account in 2023


What's the cost of advertising on TikTok?
Advertising costs on TikTok vary significantly depending on several factors (ad type, campaign length,  target audience, and geographical location). For example, the average CPM on TikTok ranges from $10 to $50. CPC usually varies from $0.10 to $1.50, depending on the audience and competition levels.
A minimum budget of $500 is required for advertising on TikTok. But flexible budget options are also available, including daily and lifetime budgets. Advertisers can choose between a daily budget, which sets a spending limit per day, or a lifetime budget, determining a limit for the entire campaign.
When estimating costs, consider the ad type. TikTok offers a variety of ad formats, including native video ads, brand takeovers, and hashtag challenges.
Types of TikTok ads


Don't be fooled into thinking that TikTok only offers limited options for ad formats just because it's a video-based platform. In fact, advertisers can choose from several. Here are the available options!
1. TopView
TopView ads are full-screen video ads that appear when a user opens the TikTok app. These ads have a maximum time limit of 60 seconds and can feature calls to action (CTAs) and external links.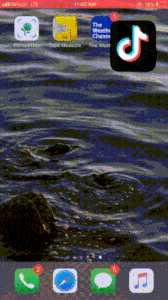 2. In-Feed Ads
In-Feed ads are ads that show up among the organic videos in TikTok's video feed. They look like regular TikTok videos but are labeled "Sponsored" to indicate they are paid for. These ads may include CTAs and external links.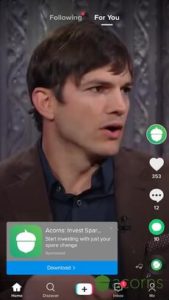 3. Branded Hashtags
Branded Hashtags are custom hashtags that brands create and promote on TikTok. These hashtags are designed to encourage users to create and share brand-related content, often through challenges or competitions. Branded Hashtags can be featured on TikTok's Discover page and other locations.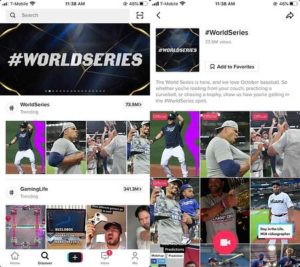 4. Brand Takeovers
Brand Takeovers are full-screen video ads that appear when a user opens the TikTok app. These ads can last up to 60 seconds, and you can add CTAs and external links. However, Brand Takeovers are more exclusive than TopView ads because they are limited to one brand per day.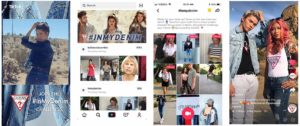 5. Branded Effects
Branded Effects are custom augmented reality filters and effects that brands can create and promote on TikTok. These effects are designed to be used by users in their videos and can include logos, slogans, or other brand markers. Branded Effects can be a great way to increase brand awareness and engage users with the brand.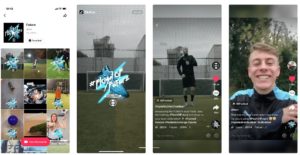 It's crucial to carefully consider which ad format best suits your advertising goals and budget.

How do TikTok ads work?
TikTok ads are created on a platform called TikTok Ads Manager. This platform offers two modes for creating ads: simplified and custom. Let's take a closer look at what sets these modes apart.
Simplified Mode lets advertisers easily create and run ads without advanced technical knowledge. They can select an ad type, set their target audience, define a budget, and launch their campaign.

 
In Custom Mode, advertisers have greater control over the display of their ads. They can choose from various ad formats, set bids for their ads, and choose how to target their audience. Additionally, advertisers can monitor the performance of their ads and adjust their advertising strategy as needed.
Regardless of the mode they choose, advertisers can set a daily or lifetime budget and select the type of bidding they want to make, such as Cost per Click (CPC) or Cost per Thousand Impressions (CPM).
7 Steps to Successfully Advertise and Analyze Your Campaigns


Are you curious about how TikTok Ads work and how you can launch a campaign for your business? Don't worry! We've got you covered with this easy-to-follow guide. Let's dive in!
1. Create your TikTok Ads account
Before diving into the world of TikTok Ads, the first step is to create an account on the platform. Keep in mind that the TikTok Ads platform is not yet available in Portuguese, but you can access it in English or Spanish.
To create an account, you can register for free on this link and specify whether your goal is commercial or personal (for influencers). After registering, you will need to wait for the team to contact you to confirm your request. Once your registration is accepted, you can start running your campaigns.

2. Define the objective of your campaign
The first step in creating a TikTok Ads campaign is to define the objective you want to achieve. This will help the platform optimize your ads while they're running.
You can choose from the following available objectives:
Website Traffic

App installations

Generating new leads

Increasing online sales
3. Select  your audience
Identify the perfect audience for your campaigns using targeting options for gender, location, age, interests, and other unique variables.
In addition, you can also work with Lookalike Audiences to not only continue engaging users who are already interacting with your profile but also to target those who share similar characteristics with your existing customers.
4. Set a budget


Like other advertising platforms such as Facebook Ads, TikTok Ads lets you set a daily or lifetime budget, making it easier to plan your campaign expenses.
You can also pause your ads anytime you want and even use an optimization model, such as CPC or CPM, to align your payments with your objectives.

5. Create your ad
When planning content for your ad, you can upload pre-existing videos or images and create videos with built-in tools straight from the app.
TikTok's cutting-edge AI and editing tools make these features even more user-friendly and enhance the content creation experience.
6. Optimize your campaign


One amazing benefit of using TikTok Ads is its smart auction system, which helps you optimize your ads to reach the right audience at the right moment using machine learning algorithms.
7. Analyze your results
Once your campaigns have run on TikTok Ads, you can evaluate the results using TikTok's reporting tool, TikTok  Analytics. This tool offers personalized metrics adapted to your strategy. 
By keeping a close eye on your campaign metrics with TikTok Analytics, you can continuously optimize your ads, boosting performance and ensuring the success of your advertising campaigns.
Did you find our TikTok Ads guide helpful?