Explore in this article the key features of Reportei AI for more accurate strategy analysis and valuable insights generation
One of the major updates to hit our platform in 2023, Reportei AI aims to streamline the analysis of crucial channels for your marketing strategy while delivering more valuable insights for your digital success.
Among these social media platforms, Instagram stands out the most. Not only do users gain access to automated analytics directly within the generated reports, but they also have an assistant designed to help make the best brand-related decisions.
In this article, we delve into these two features and offer tips for crafting even more accurate and efficient reports. Read on!
How Does Reportei AI Aid Your Instagram Reports?
Below, we've prepared a guide on how Reportei AI's new automated analytics and Instagram assistant features work, their benefits for boosting team productivity, and tips for crafting more efficient reports for the social platform. Ready?
Automated Instagram Analytics in Reports
The AI-driven report, available for Instagram and all other channels that integrate with Reportei, is a tool that revolutionizes the analysis of your digital marketing strategy results.
That is, in just a few seconds, you'll see the document filled with automatically captured metrics and accurate interpretations of this data and its impact on your project.
This feature is designed to simplify the cross-analysis of data across multiple social media platforms, providing a comprehensive and detailed view that helps identify patterns and valuable insights to guide your future actions. Check out the following example:
Thus, it's not just about giving you a retrospective of what happened but also highlighting which strategies succeeded during the period and areas that need close monitoring.
Using this tool, you not only save time but also enhance your decision-making process for Instagram and other platforms involved in building your online presence.
Instagram Assistant
Alongside automated analytics within the reports, Reportei AI offers an Instagram assistant that uses your clients' data to deliver more accurate insights for your projects.
Operation is simple: just select the assistant in our platform's AI area, set the desired period, and define the goal you wish to achieve with your analysis. For the social network, you can choose objectives like increasing brand awareness or boosting profile engagement.
Within seconds, this innovative feature returns with suggestions and ideas to make your content more relevant and improve your social media presence, as you can see in the example below: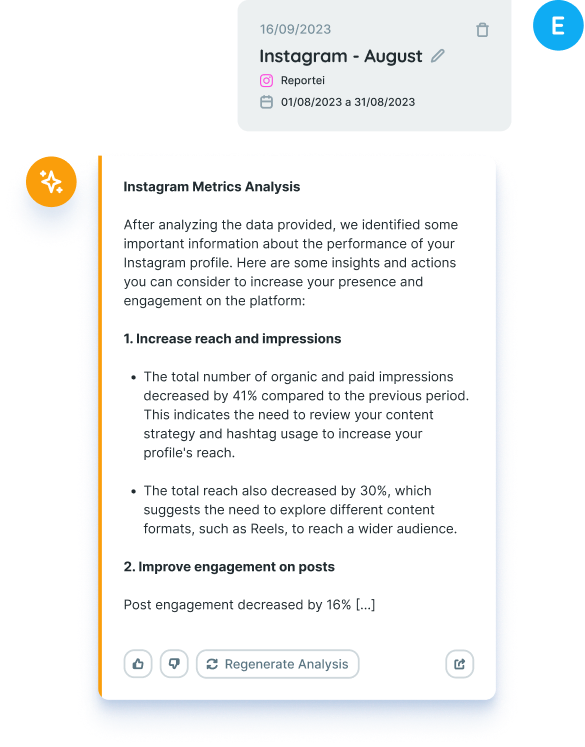 In addition to the Instagram assistant, a paid traffic management assistant is also available to help you be more accurate in your online advertising campaigns.
Tips for More Accurate Instagram Reports
To create more accurate Instagram reports and maximize the benefits of Reportei AI, you need to understand where you want to go and the role of the network in your overall strategy. Therefore, we have selected some tips below to assist in this process:
Define clear objectives before beginning data collection, keeping in mind, for instance, whether you wish to increase followers, engagement, generate leads, or drive traffic to your website. This will help focus on the most relevant metrics for your strategy;
Analyze demographic data to understand who your followers are, such as age, gender, geographic location, and other details that aid in personalizing your content to meet your audience's needs;
Track the engagement rate, going beyond follower count and total interactions. After all, this metric is an indicator that helps understand how involved your audience is and whether your content is truly relevant to them;
Monitor optimal posting times, finding out when your followers are most active. Posting during peak hours can increase your reach and interaction with your posts;
Keep track of trends and compare data over time to identify patterns. This can help you understand the impact of specific campaigns or shifts in your strategy;
Integrate data with other platforms. With Reportei, you can analyze all your social media strategies on one page, facilitating a holistic view of your digital marketing;
Pay attention to Instagram's ever-changing algorithm. Always keep up with the latest updates to understand how they can affect your posts' reach and engagement.
Remember, the key to accurate reporting is understanding which metrics are important for the account and your specific objectives, and then using reliable tools to collect and analyze this data.
How to Subscribe to Reportei AI?
Reportei AI is now available for testing on all our platform plans! This way, you'll have access to AI-driven analytics to boost your projects.
But if you wish to explore this feature even further, we also offer specific plans that allow for a higher number of AI-driven analyses on the account, in addition to unlimited access to Instagram and paid traffic management assistants.
And we have great news: to celebrate the launch of this incredible feature, we are offering a special 25% discount on Reportei AI packages. Seize this opportunity to check out the AI plans and start your free trial today!