Check out these actionable tips for extracting insights from your data and learn how to create a digital marketing dashboard using Reportei
Having a dedicated digital marketing dashboard for your projects empowers you to effortlessly gather and present essential data about your social media initiatives in a concise and visually appealing manner.
The primary purpose of this dashboard is to provide a clear snapshot of your online performance, often in real-time. By leveraging this tool, your team can evaluate progress, spot optimization opportunities, and make well-informed decisions swiftly and efficiently.
If you're unsure about how to craft your own personalized dashboard or how to gain valuable insights from your data, worry not! We have compiled a comprehensive guide packed with expert tips to help you navigate the intricacies of dashboard analysis and how Reportei can supercharge this entire process for you. Let's dive in!
How Marketing Dashboards Fuel Insights


The digital marketing dashboard offers a plethora of advantages for those seeking strategic analysis. Let's explore some of them together:
Real-time Data Visualization: your team can track campaign performance. This invaluable feature enables swift identification of trends, unexpected events, and hidden opportunities that could impact your initiatives.

Consolidation of Multisource Data: with a marketing dashboard, you can effortlessly consolidate data from various sources, including social media platforms, websites, email marketing campaigns, paid advertisements, and more. This unified view empowers you with a holistic understanding of performance, making it easier to detect patterns and connections among diverse datasets.

Spotlight on Key Metrics: your team can swiftly identify the most relevant metrics aligned with your marketing strategy. With a well-crafted dashboard, you can effortlessly evaluate areas of success and pinpoint those in need of adjustments, allowing you to unlock invaluable insights and optimize your actions.

Historical Data Analysis: by delving into the past, you can uncover performance trends and patterns that hold the key to future planning. 

Tailored Personalization: customization and segmentation help you meet the unique needs of each team member. Different collaborators can access specialized dashboards, showcasing the most relevant metrics to their areas of responsibility. 
In essence, a digital marketing dashboard is a powerful tool that not only fuels valuable insights but also optimizes your strategies, identifies growth opportunities, and empowers you to make data-backed decisions.
Mastering Data Insights: Unveiling the Secrets of Your Dashboard
Now that you recognize the significance of a digital marketing dashboard in extracting valuable insights, it's time to check out our handpicked tips to supercharge this process. Keep reading!
Define clear goals
Before you start analyzing the data in your dashboard, it's essential to define clear goals that help you achieve the digital marketing goals of the company or customer.
For example, they could be related to website traffic, improving your ad conversion rate, or increasing engagement on social media. The important thing is that they are realistic, encourage the project's development and serve as a reference for evaluating the performance of the data presented in the dashboard.

Determining Your Key Performance Indicators
Your digital marketing dashboard includes key metrics, each connected to the various channels fueling your strategic efforts. It's imperative to establish the Key Performance Indicators (KPIs) that hold the greatest sway in propelling you toward your goals.
By pinpointing these crucial data points, you can evaluate action performance precisely and make efficient decisions in your day-to-day operations.
Identify Patterns and Trends
As you dive into the wealth of information within your dashboard, keep a discerning eye out for the invaluable gems hidden within patterns and trends, whether seasonal shifts, performance fluctuations within specific periods, correlations among diverse datasets, or even hints of consumer behavior.
This will give you a deeper understanding of your client's business and the dynamics of their market to help you pinpoint the most promising opportunities for your project.
Run Comparative Analysis


One powerful technique stands out for gaining insights: comparing different periods. By exploring these temporal landscapes, you can uncover insights by comparing months or development over time. 
These comparative analyses are key to understanding trends, patterns, and a deeper understanding of your data.
Look for answers to your questions


As you dive into the information on your dashboard, it's crucial to ask targeted and specific questions, seeking answers that lie within.
Imagine your website traffic has experienced a sudden decline. Ask yourself specific questions based on the most relevant metrics.
By seeking answers, you unlock a realm of possibilities. Exploring the nuances and intricacies of your data can illuminate areas for improvement and optimization within your strategies.
Streamline Data Collection through Automation


In our pursuit of analytical excellence, we mustn't overlook the tremendous benefits of automating the data capture process.
While dashboards built-in tools like Excel are commonplace, the manual nature of metric updates can drain resources, demanding more from your team and limiting availability for strategic analysis.
But with report automation tools (like Reportei), this innovative tool at your disposal, the laborious task of data collection is streamlined, allowing you to shift your focus toward analysis, decision-making, and planning your next steps.
How to create digital marketing dashboards in Reportei
In just a few minutes, you can seamlessly integrate the channels at the core of your strategy and generate a comprehensive metrics control panel within the tool.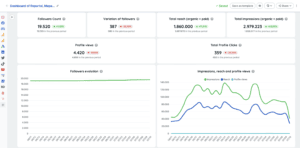 While you may need to select an initial analysis period, the beauty lies in the flexibility to edit dates and comparison timeframes at your convenience. 
Tailor your dashboard to perfection by handpicking the social media platforms you wish to monitor. Craft a customized template that perfectly aligns with your unique needs, featuring metrics and graphs that matter to your decision-making process. You can save these templates for future projects, ensuring consistent and efficient reporting across the board.
But that's not all—Reportei takes your reporting game to the next level. Add insightful analysis in the form of text, images, or videos to capture your valuable insights. Share these gems with your team and clients, fostering a collaborative environment where everyone can closely monitor the results and contribute to ongoing success.
Curious to witness the magic of Reportei's digital marketing dashboard firsthand? Don't miss out on our exclusive 3-day free trial.