When it comes to streamlining your daily tasks, from automating reports to managing key indicators, Reportei is a great solution. Discover all the incredible benefits in this article!
In today's fast-paced digital landscape, having a reliable report and dashboard automation tool is crucial to boosting your team's efficiency and fostering seamless communication with clients. 
And choosing the perfect platform for your agency to help drive strategic decision-making can be daunting. But fret not! Here's an article with three compelling reasons why Reportei is a great way of optimizing your workflow. Let's dive in!
3 reasons to use Reportei


In a world where marketers juggle numerous tasks, Reportei's main goal is to help them find more efficient ways to streamline processes and maintain a firm grip on the outcomes of strategies. 
Imagine effortlessly creating reports and dashboards in a mere three seconds, all while tailoring the layout to perfectly align with the unique requirements of each project. 
And that's not all! In this article, we've carefully hand-picked three reasons to choose Reportei and the benefits that come with it. Let's get started!
1. 23 integrations 


First, let's talk about the wide range of integrations. Reportei currently supports a staggering 23 integrations across social networks, analytics tools, marketing automation, ad management, and more! Here's the full list:
Instagram Business

Facebook and Meta Ads

Google Analytics and GA 4

Google Ads

Twitter Ads

YouTube

LinkedIn and LinkedIn Ads

RD Station Marketing and RD Station CRM

Google Search Console

Google My Business

Mailchimp

Hotmart

TikTok and TikTok Ads

Pinterest and Pinterest Ads

Pipedrive

ActiveCampaign

Phonetrack
You can analyze the outcomes of your digital marketing endeavors all within a single interface. This approach gives you a holistic understanding of data at each stage of the funnel, helping you present valuable insights to your clients. 
2. Managing indicators


Another feature for monitoring project goals is the Indicator Control (also known as Reportei Controle). This dynamic tool empowers you to make swift, informed decisions that fuel efficiency and success within your daily routine.
Here's how it works: Handpick your key indicators, and set up your monthly goals, desired outcomes, and notifications via email. These alerts serve as a valuable window into the performance of your metrics, providing insights into whether goals have been reached, surpassed, or fallen below the average benchmark (among other key factors).
That gives you valuable insights that help you check how your strategies are performing so you can swiftly adapt to dodge any obstacles along the way.
Targets are displayed in the Indicator Control tab on cards to help you gauge your project performance at a glance (see below):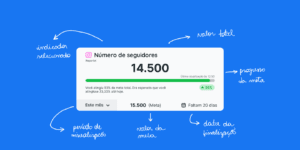 Here's what the colors mean:
Red: performance below expectations, with results at risk; 
Yellow: average performance, yet requires your attention. 
Green: positive progress and a high likelihood of goal attainment.

3. A complete plan for your company
For businesses seeking more sophisticated solutions and operating across a diverse array of channels, the Reportei Premium plan is a game-changer. Here are some of the features you can access for up to 5 projects:
10 Dashboards

Unlimited Automation

Registration of up to 20 Users

Access to All Available Integrations

 Indicator Control

Priority Support

Onboarding Meeting and Account Manager
All these remarkable features are available at a fixed monthly price, with the added incentive of up to 17% off for the annual plan.
Other advantages of using Reportei


Think that's it? Guess again! Choosing Reportei gives you other perks, like: 
Customizing Reports and Dashboards
Tailor reports and dashboards to align perfectly with your projects, create exclusive layouts that fit each client's needs, select metrics, and organize them as needed. You can also use our curated template suggestions designed for social media projects, inbound paid traffic, and e-commerce.
Adding Analyses


Enhance your reports with analytics that complement the metrics automatically collected with text, captivating visuals, or engaging videos. 
These insights will not only offer an interpretation of the data but also serve to help clients understand the results. Leverage this opportunity to incorporate the project's next steps and unveil game-changing insights that drive improved performance across the analyzed channels.

Automate reports
Helping marketing analysts work more efficiently is a top priority for Reportei. That's why we have a remarkable feature that automates your reports.
Simply set the desired delivery frequency (weekly, biweekly, or monthly), specify the reporting period (such as the previous month), select the template that suits your needs, and choose the channels you wish to monitor.
Automation helps you gain precious time for in-depth analysis and crafting strategic decisions for your clients.
Sharing dashboards with clients


Besides sharing reports with clients, you can also share Reportei's interactive dashboards. Decision-makers can dive deep into diverse analyses and comparison periods, promoting more involvement in the project.
Timeline
The remarkable Marketing Timeline feature was designed to capture and document every step of your project, so you can understand how your campaigns impact results. 
What's more, you can share this timeline with clients, so they can easily grasp the project's progress and anticipate the next steps.
Did you like reading about the advantages of Reportei? Start your free 3-day trial and see how it works!