Learn how to use TikTok Analytics for the best insights into your content.
For Pro account content creators on the most popular Chinese social network, TikTok analytics made analyzing results easier.
You can use the platform to monitor your account's key performance and published content metrics and gain valuable insights for a successful TikTok profile.
We'll cover everything you need to know about TikTok Analytics below. Keep reading for more on:
What is TikTok Analytics like? 

An inside view of TikTok Analytics reports

How to extract the best insights from TikTok Analytics
What is TikTok Analytics like?
TikTok Analytics is TikTok's metrics analysis tool for tracking performance, posted videos, and audience reach results.
You can use it to monitor content views, new follows within a designated period, and post interactions (likes, comments, and shares).
All that is essential when it comes to extracting insights from your content and gaining an in-depth understanding of your audience (like where users are from and when they are the most active on TikTok). You might be wondering how you can access TikTok Analytics. All you have to do is log in to your profile and click on Creator tools. Then, tap Analytics to view your data.
A peek into TikTok Analytics reports
Reports are divided into three main parts: Overview, Content, and Followers. You can check out the available metrics and analyses below!
1. Overview
In the Overview tab, You'll find the account's performance data over the last 7, 28, 60 days, or a custom period of up to 2 months.
You'll get data on follower growth, video and profile views, and engagement data such as likes, comments, and shares.
2. Content


For in-depth results, follow the Content tab in TikTok Analytics. You'll find individual analyses of each posted video over seven days (info is no longer available after that). 
Besides views and engagement metrics, you can view:
Average watch time;

Percentage of users who watched a full video;

Traffic source (for example: if the audience came from your profile or the

For you

feed);

Public geolocation info.
These insights will help you plan your content strategies and increase engagement on TikTok.
3. Followers
Last comes the Followers tab, with information on your TikTok audience with data from demographics to their behavior on the social network.
You can find out where your followers are from, the times of the day with the highest activity, and how much your profile has grown compared to the previous period (7 or 28 days).
Extracting the best insights with TikTok Analytics
Like we said before, TikTok Analytics is a source of insights for anyone looking to grow on the network and boost engagement.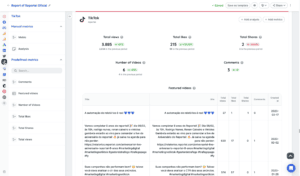 The goal is to help users understand what works with their audiences. Of course, that doesn't mean there's a simple recipe for increasing interaction since a number of factors can affect engagement.
But you can use it to learn which formats capture and hold your audiences' attention, trends that make the most sense to your target groups, and tools that can help you create content day-to-day.
You can also find out what gets the most organic engagement and decide which content to boost on TikTok Ads for higher reach.
The important thing is to use your insights alongside testing new video types, ideas, music, filters, and all the other resources available on the platform for a successful profile!
Now that you know more about TikTok Analytics, check out Reportei's exclusive TikTok and TikTok Ads report!