Here's how to optimize your data analysis in Reportei with automation
Reportei's automated reports help marketing professionals work more productively on the go. 
Once activated, there's no need to access our platform and create new reports from scratch. Simple set preferences and receive data via email or notifications from the app. 
Want to know exactly how it works? Read this article on the benefits, how-to, and other ways to use Reportei's report automation.

What is Reportei's report automation?


With data-driven culture becoming more popular in Digital Marketing, agencies, freelancers, and companies are looking for ways to optimize data capture and save themselves time for strategic social network analyses.
Reportei has the resources to help optimize these processes and boost marketing professionals' productivity. One of the ways we do this is by offering automated reports, creating and sending weekly, biweekly, or monthly reports automatically, saving you the trouble of accessing the app.
The "manual" metric capture was already practical enough since Reportei captures metrics from integrated channels in seconds. Automation simplifies things. 
In minutes, you can set your preferences for the reporting period, networks to monitor, and how you'd like to be notified (your email or your client's. You can have the report sent to the decision-maker. Keep reading to find out why that's beneficial.

What are the benefits of automating reports?
Atomizing reports on Reportei is highly beneficial to businesses that use it. The main one is definitely more productive analyses, where analysts will only have to spend time evaluating results. 
For example, say you work at a marketing agency and are responsible for six accounts. Even if you don't spend much time creating reports on Reportei, those minutes spent for each client can make all the difference to your analysis.
So when setting up automation, you'll skip the first step and can focus on the most relevant part: interpreting the data and extracting insights from it. 
And that's not all. This is also a great way to keep decision-makers updated on results. After all, reports can be automatically sent to clients, keeping them engaged with the marketing team. 
This helps the client retention process since decision-makers have access to information and can more easily understand how the agency is working toward success. 
However, it's worth mentioning that report automation won't replace direct contact between you and the decision-maker. Be sure to schedule meetings, discuss insights you extract from results, and present new plans.

Here's how to set up your automation step by step
Now that you know what report automation is and its benefits, here's how to set up and activate your own:
Access your account on Reportei, and search for Automation in your client's panel. Or, if you'd like, click on the three dots on the customer's card on the See my customers page.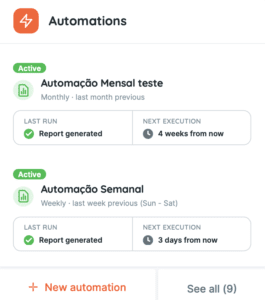 Click on New automation or Create the first automation to start.

Next, the first step is to set the automation frequency. You can select weekly, bimonthly, or monthly automation, and the time, day of the week, or month when you'd like to receive it. 

Add the time to add a title for quick identification.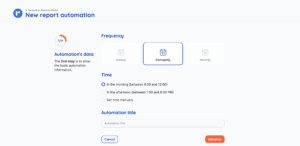 Step 2 is choosing a template for your reports. You can select any of our default layouts or choose one of your saved templates.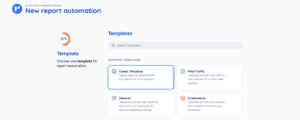 Select a period for your report (previous month or week, for example), the social media integrations you'd like to capture data from, and add a title and subtitle.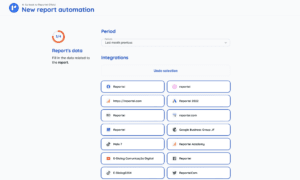 Last, choose how to receive notifications when reports are ready. These can be on the Reportei platform, by email (to you or a team member), or straight to the client's email (you can add the sender, recipient, subject, custom message, and who to copy replies to).

Next, select finish and create automation to generate your report. You can monitor the status on the client page.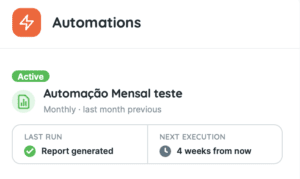 Do all our plans have access to automations?
You might have some questions as to which of our plans include automation. The good news is all of them include automations.
The difference is in the number of automations available per plan:
Starter: 1 automation per customer;

Pro: 3 automations per customer;

Premium: unlimited automations.
Boost your team's productivity with Reportei!
Far beyond report automation, there are a number of features in Reportei to increase the productivity of digital marketing professionals. Here are some of the resources that you can use along with automations to optimize your data analysis: 
Dashboards for quick and easy monitoring of projects and results;

Managing indicators. You can set your customer's goals along with the indicators to watch, and monitor data with precision during the month;

The timeline, where you can record your activity and create the project history for your team and clients.