SEO Tools ready for digital marketing agencies
Mainly by helping to define effective strategies and improve results more quickly, SEO tools have become an extremely important information base for agencies developing site optimization and content production projects.
After all, without acquiring data and suggestions for improvements that many of them offer, it's harder to get out of the dark and find the right answers to the needs of your customers.
But how do you know what are the right SEO tools for the services your team develops?
Check below the list we have prepared with seven of them that can not be left out of your agency and your projects!
Extract important data through SEO tools
To generate technical improvements to your customers' websites and conquer a good position on Google, you need to be concerned with searching for relevant information about the performance of the pages you're managing.
Some SEO tools are extremely important in this task and can make all the difference to the success of your work. Check out the three that we separate in this article:
1. SEMrush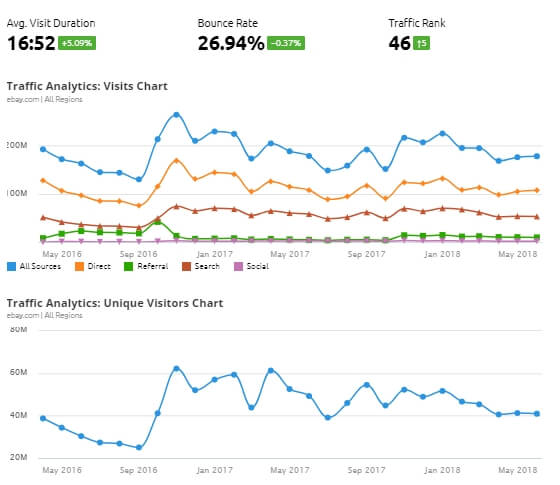 SEMrush is one of the most comprehensive SEO tools for marketers who want to get the best results from Google searches.
The investment to get its benefits is greater but it pays off when we think it works to provide accurate information on every aspect of the sites it analyzes.
Some of its main functions are:
positioning tracking in search engines;
providing ideas to boost organic traffic;
help with keyword research and management;
and monitoring the competition to help understand their behavior.
Recently, SEMrush launched SEO Writing Assistant, an extension to Google Drive documents. It helps professionals verify that their texts or third-party articles meet the essential requirements to ensure the quality and originality of the content.
From there, this new feature evaluates readability and the main keyword, as well as showing recommendations for related keywords and pointing out occurrences of plagiarism throughout the text.
2. GTmetrix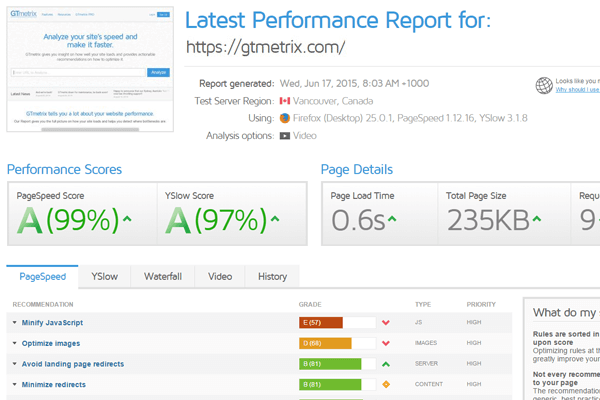 GTmetrix is an excellent option for you to find features that help in optimizing websites in a much simpler and clearer way.
The reports provided by this SEO tool allow you to have access to website performance based on the most important indicators of page load speed.
From the time of loading and the number of hits, you can compare your results with the general average of other sites that GTmetrix evaluates and generate improvements much faster.
To make your life even easier, the tool also emits alerts when your site performs poorly and performs reviews of how it works on mobile devices.
3. MozBar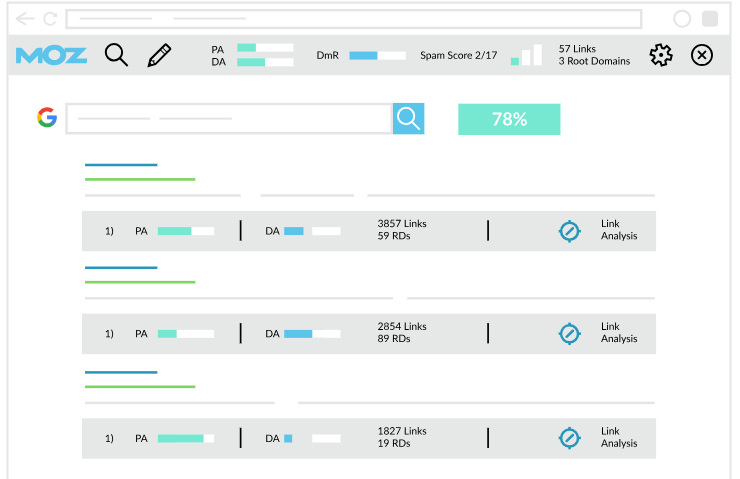 MozBar is a toolbar that can be installed in Google Chrome and provides SEO tools for metric analyzing on any website.
One of its main functions used by marketers is the Page Authority (PA) and Domain Authority (DA) evaluation for competitor analysis and results on the first page of Google.
With this tool's information, you can compare metrics related to the links on each page, find and highlight relevant keywords, and export search details to a CSV file.
With Moz Pro's signature, you can also check the difficulty of keywords for any search term and get more details on page optimization and content suggestions.
Search for keywords and have ideas more easily
Looking for ideal search terms ideas for your blog post or to improve the positioning of your site on Google?
So be sure to check out these two SEO tools that have stood out when the subject searches and keyword suggestions:
4. Ubersuggest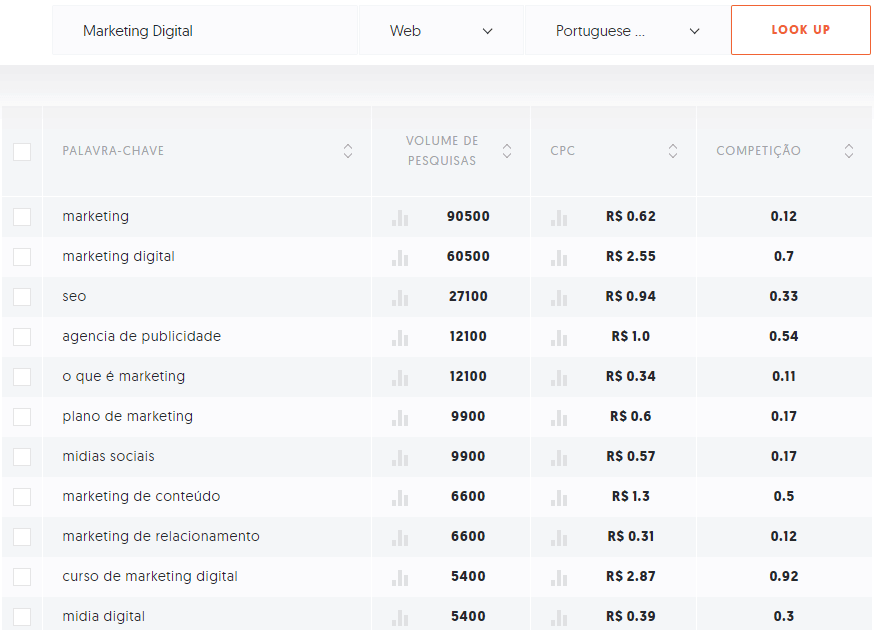 Ubersuggest is a free SEO tool for professionals looking for keyword information and suggestions for terms that can help you plan your strategies.
Based on Keyword Planner and Google Suggest, it provides data from an overview of the searched keyword, focusing on your search volume and competition level.
In addition, Ubersuggest evaluates the seasonality of the search term and allows you to exclude negative keywords. Learn to identify the source of your website hits, it will increase the effectiveness of your search.
Best of all, the tool is also unlimited! You can use it as many times as you need to find the best ideas and reach the right audience with your projects focused on SEO.
5. KW Finder
KW Finder is one of the best SEO tools for anyone who wants accurate results when searching for keywords and suggestions of terms with a low level of difficulty that is usually not used.
In addition to providing the optimal combination of search volume and keyword difficulty, it is also integrated with Google Suggest and is based on specific SEO metrics.
By segmenting your results by selecting countries, states or cities, you can understand the searches made in a particular location and further target your strategy.
Even though it's a paid tool, KW Finder offers a free plan, which allows you to do five searches per day, get 50 keywords per search, and 100 backlinks.
6. Google Search Console
Signing up on the Search Console is the starting point for tracking the presence of sites in Google's search results, understanding how the search engine sees your pages.
With it, you know, for free, the searches that drive the most traffic to your site, if its design is responsive, and if there are errors that could hurt your Google ranking.
Search Console also displays specific information about keywords that are searched for and display your pages as a result.
When done well, especially with Google Analytics, it is essential to analyze results accurately and to make technical improvements based on good practices indicated by the search engine itself.
7. Google My Business
This is a tool that can not be missing at all for any organization that wants to be found by users looking for information about it.
In a simple way, you can generate a registration form for the website that you manage and make important information available so that clients and interested people can find the company more easily.
In a short time, you can adjust your hours of operation and contact numbers in Google My Business, advertise your headquarters address, and view customer reviews.
The tool also lets you share photos related to your company's products, location on Google Maps, and news, offers, or updates that are important to your audience.
In addition, your registration form generates relevant data about the users' interaction with the information available, analyzing clicks, calls, performance of the posts and location of the public.
It is important to remember that the more complete the information you extract from the SEO tools, the more effective the strategies will be for your customers.
Now that you have access to the benefits of each one of them, just evaluate and choose those that have more affinity with your reality and start using them right now to further improve your projects!
Did you like the article on SEO tools? Feel free subscribe to our newsletter right now and stay on top of other tips that will help leverage your agency's results!